Being the first all-female crew to take part and finish the gruelling Rolex Middle Sea Race, the JYS Jan entry caused varying degrees of skepticism yet, the passion and determination to complete what they started proved many people wrong. Here's their story.  
In a day and age where the battle for equality is ongoing, the news of an all-female crew taking part in the gruelling Rolex Middle Sea Race, raised a few eyebrows and caught the attention of many.   
The Jarhead Foundation J/109 JYS Jan was about to write its name in history.  Their objective? To finish the Race and be the first all-female team to complete the gruelling 606-nautical mile course, notorious for its difficult conditions. 
There were quite a few major hurdles that quite a few people on land, may one add, felt the girls had to overcome – one was the fact that some of the women on board, despite having years of experience in dinghy sailing, had never raced on a yacht, let alone taken on the challenges a 606 nautical mile offshore race offers.   The second was the fact that an all female crew could potentially be a recipe for disaster. The third being that most of the crew had never met or sailed before this event.  
To add to that pressure was the fact that another of the Foundation's yachts was taking part – the J/109 JYS Jarhead, skippered by an all-male crew, most of whom were far more experienced in offshore sailing.  Despite some minor protestations, the girls acknowledge that there was a degree of rivalry. Yet, they still wanted each other to do well and were gutted when the boys had to retire near Favignana due to a torn mainsail.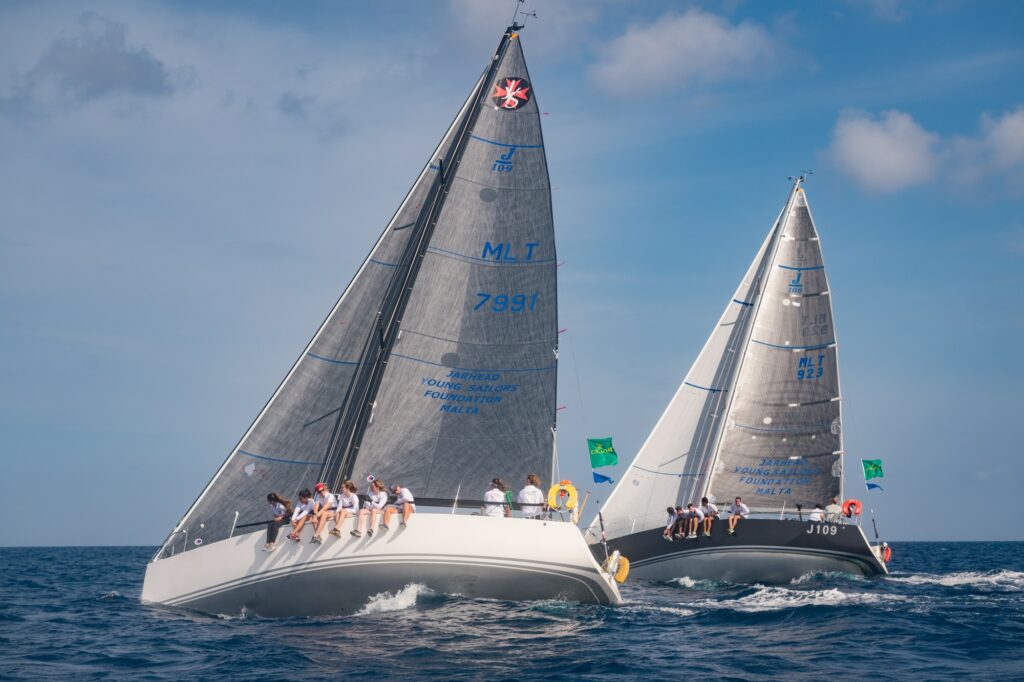 Lacey Aquilina, Emilie Gregory and Gabriella Mifsud have three decades of sailing experience between them. However this experience was primarily obtained through sailing in Optimist and Laser Classes. Emilie had her first taste of offshore sailing when she competed, through the Jarhead Foundation, in the Rolex Fastnet earlier on in August and Gabriella took part in her first Rolex Middle Sea Race five years ago, at age 14!. For Lacey it was her first experience.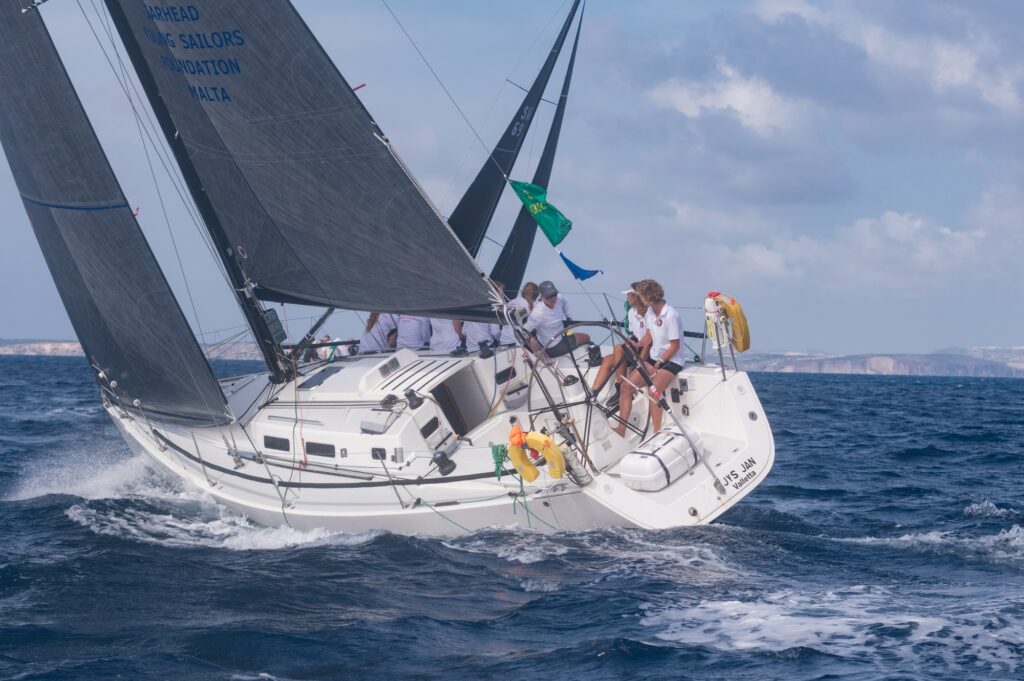 Meeting the three girls shortly after the race, it was evident that they were still bubbling with excitement. Finishing off each other's sentences showed that these girls had really gelled and bonded.   
Let's face it, sometimes women are their own worst enemy.  The girls agree that it  that all female teams can potentially be particularly difficult to manage. Yet these girls, driven by a passion for the water and the drive to succeed, have shown that the exact opposite can happen!  
 So how did the girls manage that?  Gabriella, is quick to reply by saying that it was all about mutual respect and having faith in each other's capabilities.  For a week prior to the start of the race, the crew lived on Gabriella's family boat, which enabled them to connect and bond with each other better.  
Racing on board with the girls were Nikki Henderson and Katy Campbell. Nikki is no stranger to such challenges – she made history after being selected, at age 24,  as the youngest ever professional skipper to lead a team in the 40,000-nautical mile Clipper 2017-18 Round the World Yacht Race, whilst Katy is a fully qualified RYA instructor. Katy and Nikki shared the shifts to enable the girls to have a more experienced crew member with them at all times. Yet the girls were very much in charge of the decisions they took.  
Would things have been different had Nikki and Katy not been on board?  Lacey steps in by saying that whilst they think the team would have gelled, it was with pride that they can say these two women where on board.  Their ability to be easy going ensured that they fit in easily and complemented each other's characters. Nikki was more tactical whilst Katy would give explanations on how to do things more effectively. 
Undeniably, such challenges provide those undertaking them with a broad range of lessons learnt. Good-humoredly, the girls start off by saying that somehow, someone had forgotten to pack Nutella and Coffee! Their laughter at this shortcoming in food supplies is followed by more serious observations.  Whilst the first three days were more of a social sail due to the light conditions,  the last three were the trickiest and most mentally challenging.  Emilie explains that life skills  very much came into play – the strong urge to cry superseded by the concentration to keep things together and keep on going.  Lacey nods her agreement – jokingly pointing out again that food was a big motivation for her. Yet the bond that was being created ensured that the morale needed to remain high, was kept being fuelled, ensuring that everyone kept motivated.   
So would they do it again?  The answer was a resounding yes. They all agree that the Rolex Middle Sea Race was the best two weeks of their lives.   The sacrificing of school and social lives, the demanding physical training and the race itself was certainly not enough to put these girls off and change their mind had they been able to turn back time.  
In future, Lacey explains, that they hope to tackle the race with a different mindset – this time it was about getting the experience and finishing the race. Next time it will be to achieve a better result and possibly a podium [Editor's Note: The girls narrowly missed out on a podium in ORC Class 6 where they finished in 4th place]. 
 "We are grateful towards the Jarhead Young Sailors' Foundation for giving us this opportunity. The possibility to  come out stronger, to give our all without holding back, to reach whatever goals we want to achieve and to share a million and one tales of this adrenaline pumping adventure" Lacey Aquilina, Emilie Gregory, Gabriella Mifsud.  
 It would be safe to say that the JYS Jan crew proved quite a few people wrong. Gabriella, modestly gives credit to the mindset that the crew had.  Whilst the boys are physically stronger, girls can be tougher mentally.  This race was about breaking the proverbial glass ceiling and trying to remove the stigma that girls cannot do such a race with out male help.  The girls certainly took the challenge in their stride and proved many wrong.   
 The warm welcome awaiting them on their boat's pontoon, upon their return, was richly deserved.