The start of the 2023 Rolex Middle Sea Race is just under four weeks away. When entries closed on Friday, 22 September, 109 yachts had entered representing 25 countries including Kazakhstan, San Marino and Israel – all three thought to be attending for the first time. Once again, the 606 nautical mile classic is demonstrating its global appeal and ability to motivate participation from countries not regularly seen on offshore start lines elsewhere in the world. The race is scheduled to get underway from Grand Harbour, Valletta on Saturday, 21 October. Should anyone still wish to join the competition and adventure, the Royal Malta Yacht Club has reserved the right to accept late entries up until Friday, 29 September.
The fleet facts are as follows: 107 monohulls, two multihulls, largest yacht: Stephane Neve's Spirit of Malouen X at 32.55m, smallest yacht: Muttley – BDM Audit at 9.76m, most entries from Italy with 23 followed by Malta with 12, furthest travelled entry: El Oro from Australia, and six double handed entries, which include Luca Bettiati's Muttley and Murat Abdrakhmanov's Jenis from Kazakhstan. The multihulls include Alexia Barrier's MOD 70 Limosa (ex. Mana), with a top class crew, and Aldo Fumagalli's all-carbon Rapido 40 trimaran Adamas, designed by high-performance gurus Gino Morelli and Pete Melvin, and sporting a rotating wing-mast and C-foils.
The monohull fleet promises plenty of intrigue and interest, with a mix of Corinthian and professional crews harbouring different levels of ambition, but sharing the same course. All those racing under IRC Time Correction are in with a shot at the race's main prize – the splendid Rolex Middle Sea Race Trophy awarded to the overall winner. This magnificent, sculpted piece, created by Emanuel 'Emvin' Cremona for the first race in 1968,  has been undergoing a period of restoration after 45 years of being held aloft by its ecstatic recipients.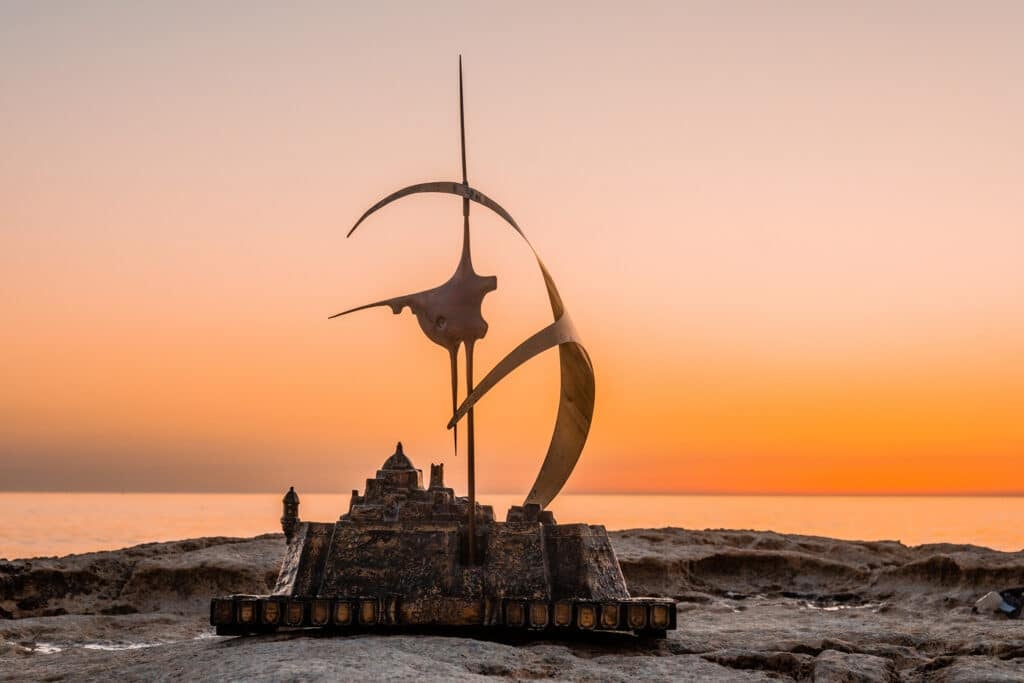 Among the yachts that will be hoping to lay their hands on the trophy this year are a clutch of boats that performed very well in this year's Rolex Fastnet Race. Maximillian Klink's 15.85 metre Caro from Switzerland was overall winner at the RORC's flagship event. If prevailing the weather suits her size and class, Caro must be a strong prospect. It will not be straight-forward, Chris Sheehan's Warrior Won from the United States finished third at the Fastnet and fourth at the 2022 Rolex Sydney Hobart, just 10 minutes behind Caro on corrected time. Philippe Frantz's French entry Albator finished fifth at the UK's top offshore race, just ahead of Bryon Ehrhart's Lucky (ex. Rambler) and James Neville's Carkeek 45 Ino Noir, on its debut 600 mile offshore race. They will no doubt be happy that last year's Rolex Middle Sea Race winner, Teasing Machine, is not returning to defend her title.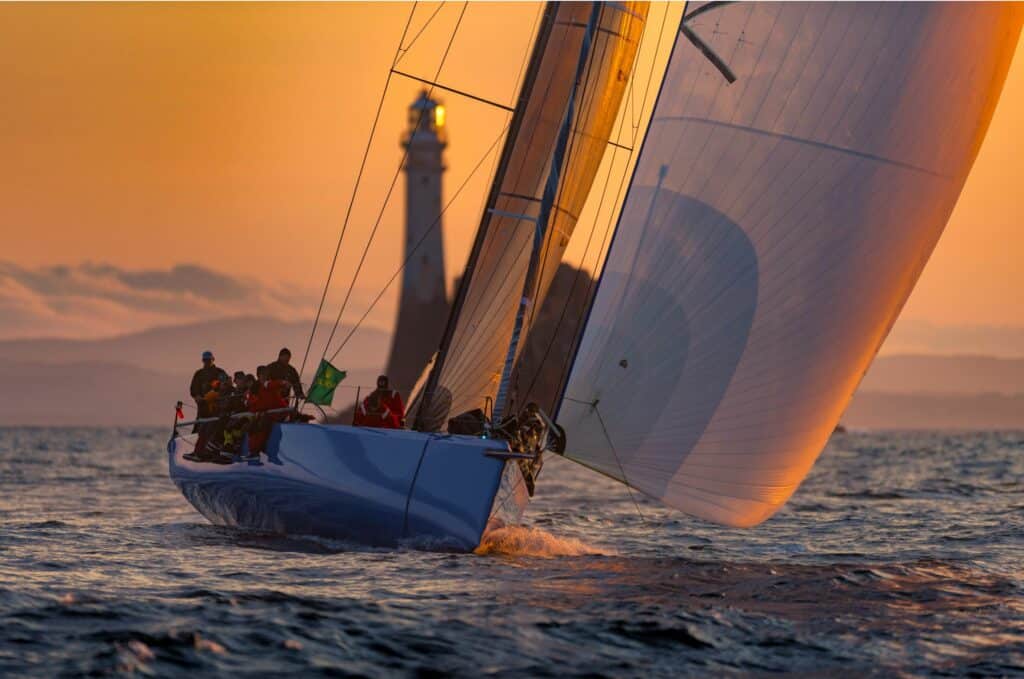 Other yachts to look out for in this section fleet include Red Bandit, winner of the 2023 Rolex Giraglia, François Bopp's Swiss Chocolate 3, Marton Jozsa's Hungarian Wild Joe (third overall last year) and Guido Paolo Gamucci's Mylius 60 Cippa Lippa X (fifth in 2022) from Italy. A special contest may ensue between two Carkeek 47s. Stortebekker (ex. Black Pearl) from the Hamburgischer Verein Seefahrt e.V in Germany under the leadership of Katrina Westphal, while Optimum S – Samos Steamship (ex. Indian) from the Kalamaki Nautical Club in Greece is led by Nikos Lazos and Periklas Livas. Lazos and Livas are celebrated 30 years of the Optimum Yacht Racing Team. It will be their eighth race, although first with the current boat.
Famed for winning the 2004 Rolex Middle Sea Race with the Farr 52 Optimum 3, Livas and Lazos are only too aware of the challenge ahead. "We are on a steep learning curve in terms of getting to know the modes of Optimum S," says Livas. "In this second season, we feel more confident to push harder and achieved third overall under IRC (first in Class 1) and first overall in ORC in Aegean 600 in July this year. We eagerly join Rolex Middle Sea Race to measure ourselves and our weapon, racing alongside more than 100 serious entries from all over the world."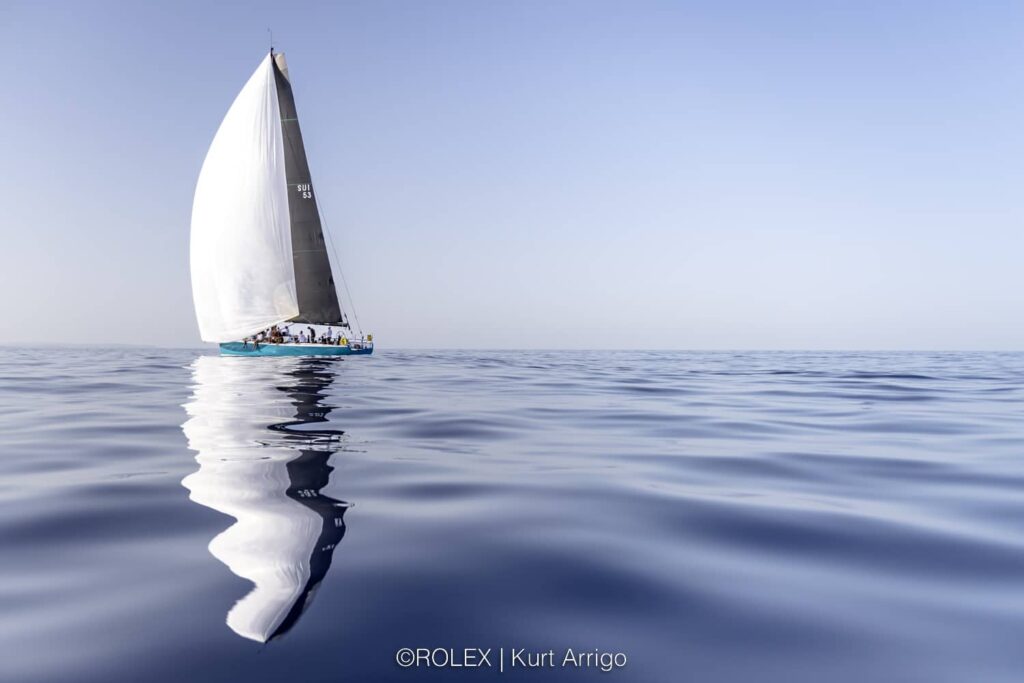 Two other sisterships to consider are the Cookson 50s: Franco Niggeler's Kuka 3 (Switzerland) and United States sailor Robert Pethick's chartered Testacuore Race. Pethick has secured some impressive results in the 2025-mile Transpac Race from Los Angeles to Hawaii, winning his division in 2021, placing third in 2019 and second in 2013 in the biennial ocean racing classic. Niggeler is a past winner of the RORC Transatlantic Race and the Dhream Cup (Grand Prix de France Course au Large). The 2016 Rolex Middle Sea Race witnessed a Cookson 50 one-two as Mascalzone Latino took the IRC victory head of the Cippa Lippa 8.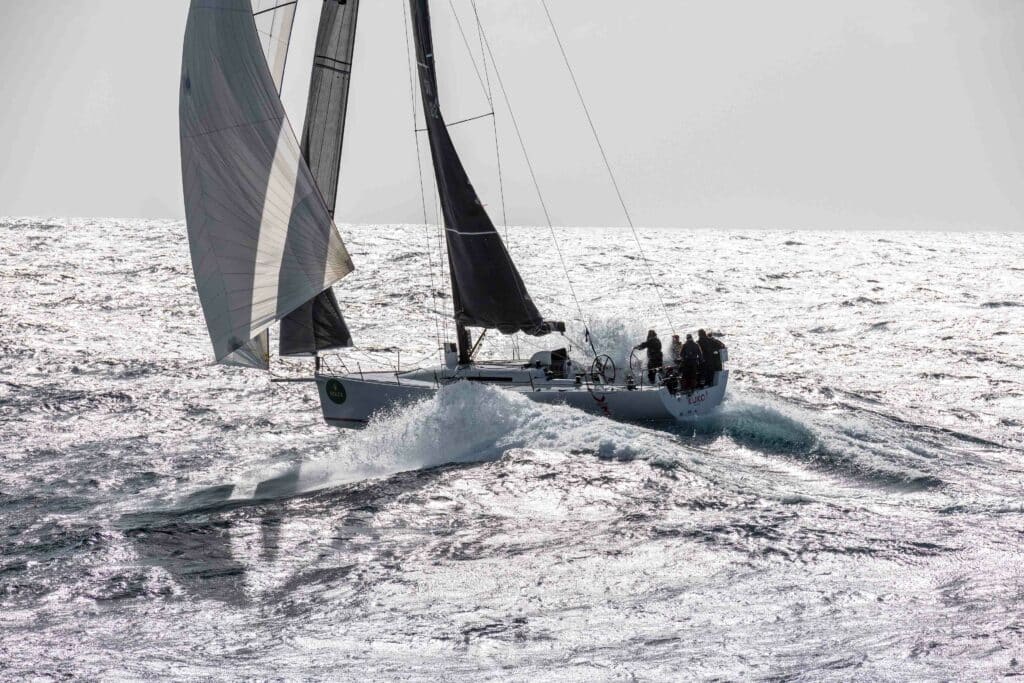 The talent on display does not diminish greatly as one heads down the entry list and plenty of boats around the 40 foot mark have taken the overall win in the past two decades. Most notably, perhaps, the crew of Artie guided by owner Lee Satariano and Maltese legend Christian Ripard, about to embark on his 33rd race – only one shy of the current record set by another local hero, Arthur Podesta, who sadly passed away in 2015. Artie has won the race on two occasions in 2011 and 2014, on Satariano's previous boat a J/121. The current HH42 is a step up in performance potential, but a second in class last year is encouraging.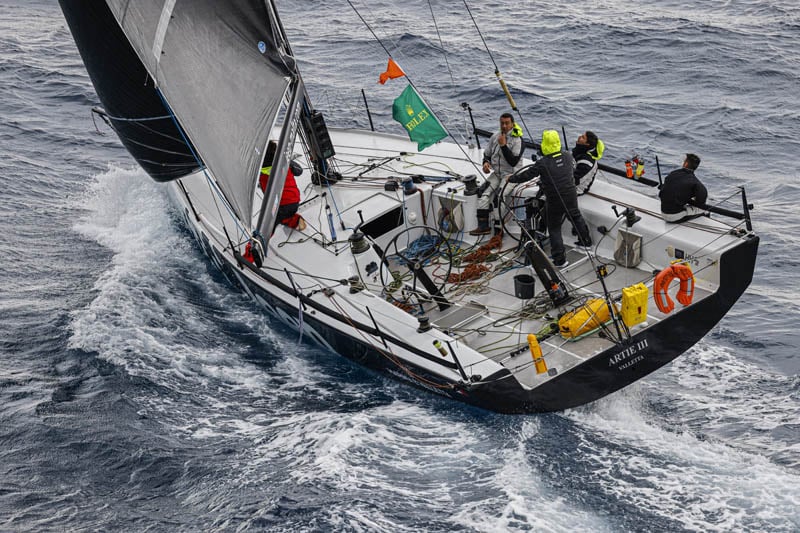 The Podesta family meanwhile maintains its extraordinary connection with the race. The three siblings – Aaron Christoph and Maya – are preparing for yet another lap on Elusive II, with which Malta's most recent triumphs at the race were achieved, the back-to-back wins of 2019 and 2020.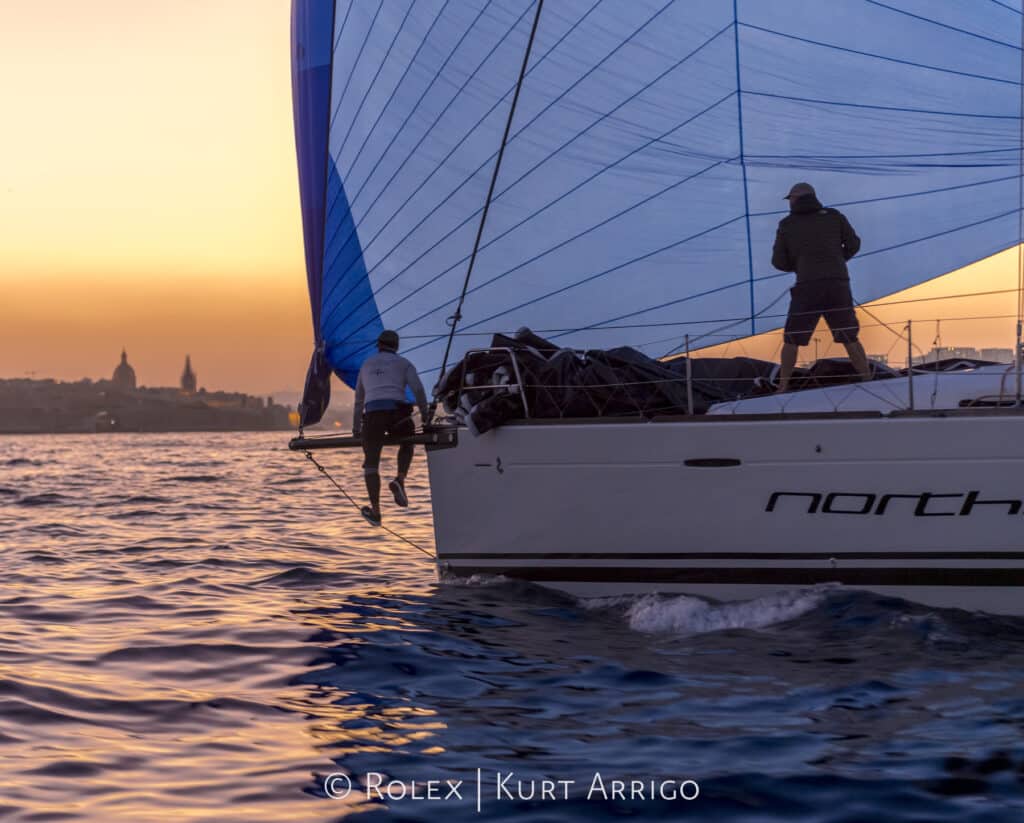 One of the first time entrants to catch the eye is Chione from the United Kingdom. According to its skipper Bill Farrant the Grand Soleil 43 has been extensively upgraded under the project management of Josh Hall, a class winner at the Transat Jacques Vabre and Vendee Globe finisher. On board will be Sir David Hempleman-Adams, the first person to reach the geographic and magnetic North and South Poles among many other feats of exploration. Farrant and crew member Dr Ros Smith took part in the double-handed Round Britain and  Ireland Race on Chione. Farrant has many connections to Malta, including his Maltese wife of 33 years, Anita; he is also a long standing Royal Malta Yacht Club member.  "We will be dedicating Chione's race entry to my father-in-law, Evarist Saliba, who will be well known to many on the island for his public service in government," says Farrant. "Evarist, now 95 years old, would have loved to have been able to watch the start of the race but due to ill health will be unable to attend. As a young boy in the early 1940s he can recall observing a very different tableau unfolding in the Grand Harbour – a reminder to us all how privileged and fortunate we are to be able to participate in such a wonderful event as the Rolex Middle Sea Race.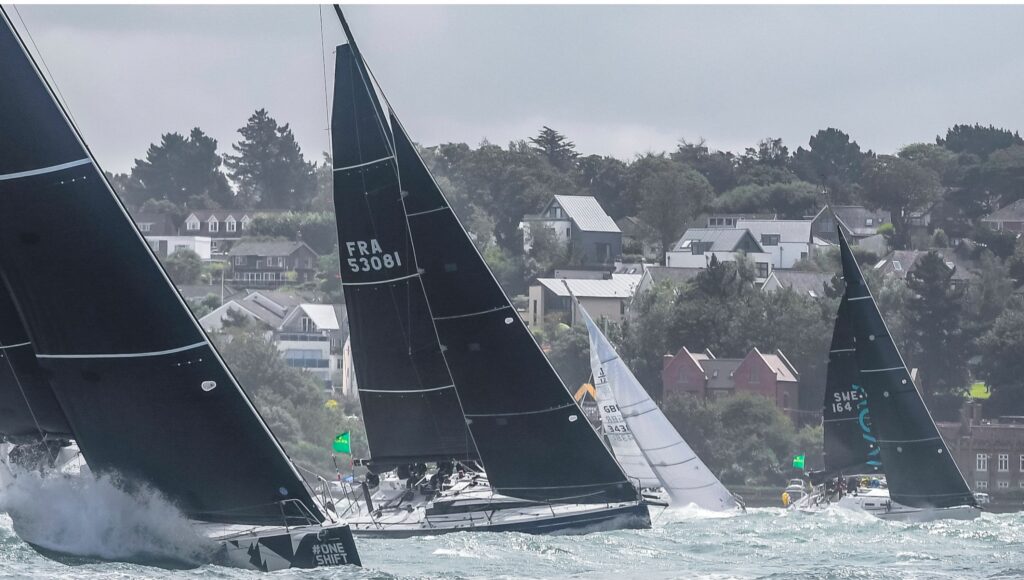 The last time a sub-12 metre or 40 foot yacht won the Rolex Middle Sea Race was in 2018 when the JPK 1180 Courrier Recommandé picked up the main prize. The year before it had been the JPK 1080 Bogatyr, offering plenty of encouragement to the quarter of the fleet that fit beneath that overall length. There are two JPK 1180s this year – Per Roman's Garm from Sweden and Richard Fromentin's Cocody from France. Cocody was fourth in class and 18th overall at this year's Rolex Fastnet Race. Garm was doing well in the same race until the Swedish crew infringed a Traffic Separation Zone taking a scoring penalty in the process. No doubt one or both these crews will be looking to achieve more in October. Among the smallest entries, Dusko Tomic from Croatia sailing the Sun Fast 3300 Munjek RS from Croatia has plenty of experience of the course, as does the J/109 JYS Jan from Malta, with its crew of young sailors led by Claudia Bugeja, a graduate of the Jarhead Young Sailors Foundation, and on his fifth race.
Whoever comes out on top in the battles to be fought in October, one thing looks certain: another great chapter looks set to be written in the rich history of the Rolex Middle Sea Race.
The 44th edition of the Rolex Middle Sea Race will start on Saturday, 21 October 2023.