Ton Ton Laferla etches name on Raymarine Double Handed Figure of Eight Trophy
Xpresso claims line honours and comes in close second on corrected time.
Ton Ton Laferla, skippered by father and son duo – Jonathan and Gerald Gambin took the honours at the Raymarine Double Handed Figure of Eight Race, hosted by the Royal Malta Yacht Club, which took place on Saturday 5th December.
With a forecast of strong winds of approximately 20-25 knots from the South and veering to West during the day, the thirteen-boat fleet set off in one start at 0805hrs, under the guidance of Rear Commodore (Sailing) Peter Dimech and Luca Lacitignola who were tasked with overseeing the start.
The chosen courses, the longest provided for in the sailing instructions were a full figure of eight around Malta and Gozo for the IRC Rated Racing boats.  A shorter course of 56 nautical miles was given to the Club Cruiser Class.
Heading south to the Munxar Cardinal buoy as the first mark, it was tight start for Elusive 2 (Aaron Podesta/ David Anastasi), Ton Ton Laferla (Jonathan Gambin / Gerald Gambin) and Xpresso (Sean Borg / Paul Borg Cardona) – the latter left the line in third place but in short time gained the lead, with both Ton Ton and Elusive 2 hot in pursuit.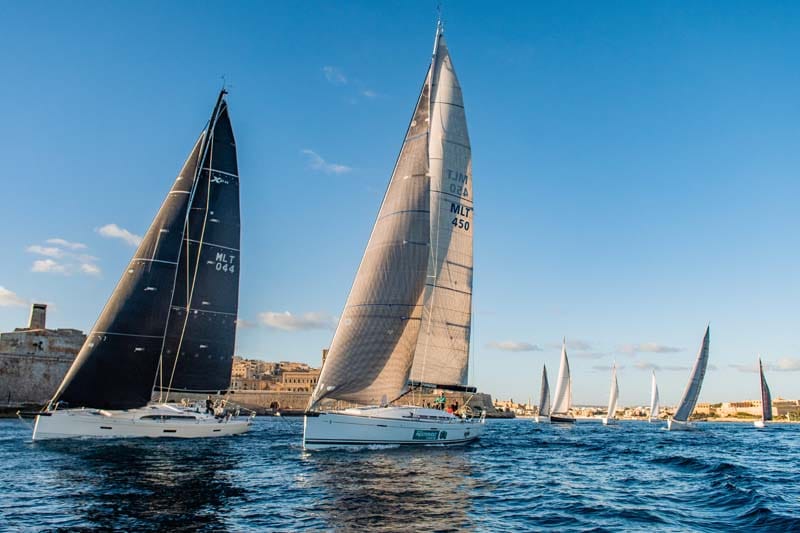 As the fleet rounded Munxar Cardinal Mark, the XP44 Xpresso took the lead, battling winds reaching approximately 24 knots. The swell and wind conditions forced them to take conservative decisions in order to be safe.  Shortly after passing Filfla, Elusive 2 was forced to retire due to technical problems, leaving Xpresso and Ton Ton to lead the way.  A good tactical decision by Ton Ton saw them take the lead upon reaching Gozo, where flat calm waters gave the fleet a bit of respite from the battering they had been encountering. This was short lived as the fleet once again was faced with strong swells as they passed the Gozo channel.  It was here that Xpresso overtook Ton Ton once again. With winds reaching levels of 29 knots, it was full survival mode until the fleet reached Marsamxett Harbour.
Xpresso maintained their lead till the very end to win Line Honours.
"We took the decision to go at full power from the word go. Although we did take some conservative decisions, our strategy paid off. All in all both Paul and I were satisfied with our race and taking Line Honours certainly ended a tough day on a good note" – Sean Borg, Xpresso
Second to finish was Gambin's Ton Ton Laferla, who after corrected time took the top spot, beating the Xp44 by just four minutes.
Race winner Jonathan Gambin expressed his satisfaction at the race's outcome.  "It was great to race with my son. Ton Ton Laferla is a powerful, fast boat however she needs to be trimmed well to perform at top level.  We are now working on this to improve our results." Gambin explained after the race.
In IRC2, Andrew Agius Delicata and Matthew Gabriele racing on Vivace were first in Class, and third overall.  Second in this Class was Jarhead, skippered by the youngest competitors in the fleet – Emilie Gregory and Saul Vassallo.
Meanwhile, the Club Cruiser fleet whittled down to a two-boat race between Peter Ellul Vincenti's Manana and Fernando Grech's KonTiki. The former emerged winner of the Class.  Despite the shorter course, the fleet still had to contend with strong gusts of wind and high waves in places.
"Double Handed Racing is always considered to be one of the toughest kind of races. This particular race is a long day out at sea.  The forecasted blustery conditions materialised, making it even more challenging than it has been in the past few years", explained Race Officer Peter Dimech.
Thanks go to Club officials and volunteers Alana Meadows, Luca Lactiginola, Vika Lacitignola, Winnie Grech Sammut and Wolfgang Scheifinger for assisting with Race Management duties.
The race which has been supported by Raymarine agents in Malta RLR Yachting for nearly a decade,  is the penultimate race of the Royal Malta Yacht Club racing calendar for the year.
A Prize Giving ceremony will take place at a later date.
"The Royal Malta Yacht Club is thankful that racing has been able to continue. Although the pandemic has put paid to social events – like the Prize Giving evening, at least we can take satisfaction from the fact that racing was still possible.  The Club thanks RLR Yachting and Raymarine for supporting this race, which is highly appreciated given these challenging times" explained Royal Malta Yacht Club Commodore, Godwin Zammit.
Raymarine Double Handed Figure of Eight Results
IRC Overall
| | | |
| --- | --- | --- |
| 1st | Ton Ton Laferla | Jonathan Gambin / Gerald Gambin |
| 2nd | Xpresso | Sean Borg / Paul Borg Cardona |
| 3rd | Vivace | Andrew Agius Delicata / Matthew Gabriele |
IRC 1
| | | |
| --- | --- | --- |
| 1st | Ton Ton Laferla | Jonathan Gambin / Gerald Gambin |
IRC 2
| | | |
| --- | --- | --- |
| 1st | Vivace | Andrew Agius Delicata / Matthew Gabriele |
| 2nd | Jarhead | Emilie Gregory / Saul Vassallo |
| 3rd | J Lance | Martin Borg Nicolas / Kristian Borg Nicolas |
Club Cruiser Class
| | | |
| --- | --- | --- |
| 1st | Manana | Peter Ellul Vincenti / Peter Delia |
Photo Credit: RMYC / Alex Turnbull