Strength and Conditioning in Fitness Training. | The Big Dilemma discussed with the Experts 
Many consider the final piece of the training puzzle is strength training. Not because it is not important, but the actual training undertaken for a race tends to steal the focus of many training regimens.  Spinnaker spoke to Nigel McCarthy who has been working with a number of top–notch sailors to give them a holistic training plan as they prepare for high level competitions such as the Olympic Games.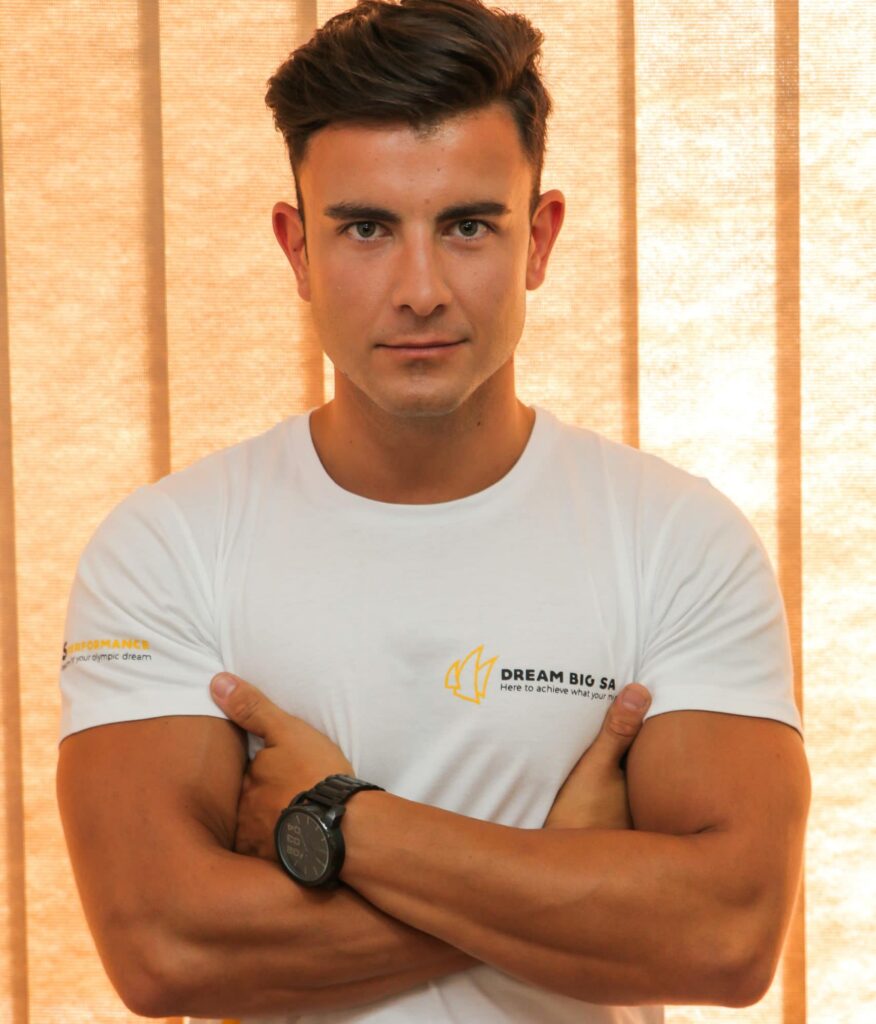 Nigel started playing football for local football clubs – San Gwann FC at U/10 and with Melita FC till U/19 before moving on to athletics with St Aloysius and later on Pembroke Athleta. He also competed, for fun in his own words, at the Maltese Laser Sailing Nationals 2017. Nigel graduated with a Master's degree in Sports Science from the University of St Mary's, London. He also won a scholarship to attend the renowned International Olympic Academy in the ancient city of Olympia, Greece and has also completed a number of other courses with the English Football Association, IAAF and UK Athletics, together with his Personal Trainer qualifications.   
 What made you get into Sports and fitness? How long have you been in this line? 
Although actively involved in sports since the age of 13 and regardless of the fact that I was obsessed with sports, to my disappointment coaches always used to tell me that I could not make it to a higher level due to my lack of coordination. Having accepted my personal predicament and the fact that Malta had the potential to obtain better sporting results in the international sphere I started my education in the field in an attempt to contribute towards a change in such a  situation.  
Your biography states that you worked for St Mary's Richmond Athletics Club and through that experience you worked with a number of medaling athletes at the London Olympic Games. Can you tell us more about that experience?  
At St Mary's Richmond Athletics Club we had a great set up for intermediate aged athletics athletes (13-17yrs) wherein they would train in all track and field events throughout the week (Throws, Jumps, Short and Long distance running). This obviously required great dedication from the athletes with great co-ordination, effort and energy between the coaches. St Mary's University was selected as an official training camp for the London 2012 Olympic Games. This meant that Olympians such as Sir Mo Farah and Paralympians such as Toby Gold were around getting ready for the Games. Having such individuals around teaches you so much, their attitude and work ethic is something unique. 
What can you say was the most fulfilling experience in your career so far?  
Possibly competing at the BUCS 100m finals in London. This competition was set up as the test event for the London 2012 Olympic Games athletics stadium with an attendance of 30,000! As a coach back in 2015 I was responsible for the fitness program of Ahmed Ragab (EYG), Rodney Govinden (SEY) and Imene Imenou (ALG) in preparation for their Olympic qualifiers. This preparation proved to be successful, with the subsequently competing in the 2016 Rio Olympic Games. In 2019 through World Sailing I was given the responsibility to work on the  fitness programme for Aly Badawy (EGY) and Daisy Nhaquile (MOZ) – these too had a successful campaign and will be heading to Tokyo for the 2020 Games.  There are many other moments such as the Maltese National 50m Breaststroke record with Alex McGonigle but these three are definitely my most fulfilling experiences.  
What is the most frustrating thing an athlete working with you can do?  
Inconsistency. Unfortunately we come across this especially when working with Maltese athletes. Exams, holidays, assignments, personal issues all tend to have an impact on these athletes, thus negatively impacting their consistency in training. Although holidays and time off is necessary, detraining still occurs.  
You are now working with World Sailing and Sailcoach who run the Royal Malta Yacht Club Sailing School. What do you consider are the most important factors when it comes to fitness for sailing? 
Fitness for sailing is becoming more and more a determining factor at international regattas. Speaking about Laser sailing, we are looking at 45–minute races twice to three times daily for 4 to 6 days. This requires a high aerobic capacity base which will allow you to recover from day to day. It requires a high requirement of strength and mobility to deal with the forces and manoeuvres on the day and a solid injury prevention program to deal with the repeated stresses over multiple days.  
Can you highlight any sailing specific exercises that you incorporate in your programme?  
I recommend a number of exercises: Inverted rows are a great injury prevention for the upper  body especially shoulders; Gymnastics rings create instability for more bullet proof shoulders; Isometric front squat holds having the sailor holding the bottom position of the squat for 15 seconds –  This is one of our core exercises for great quadriceps performance. Palloff Press is the core exercise we use to activate those important rotational trunk muscles.  
A lot of people might think that employing a Strength and Conditioning Coach is a luxury – how would you argue against that line of thought?  
Strength & Conditioning does two things for the athlete; one of which is injury prevention and second the improvement of performance. Think about all the days missed from training due to injury and think about how competitive events are won by the slightest of margins…. then this question would be answered. Simply put,  strength and conditioning gets the body of an athlete ready to meet the demands of the sport.  
Supplements are often mentioned in the same breath of training programmes. What is your opinion on this matter? Do you feel that supplements should be included in one's training programme?  
When it comes to sports supplements one has to ask many questions before jumping onto the many bandwagons that come along from time to time. Firstly we start by asking about the lifestyle; is the individual sleeping enough?; Are they allowing enough rest time?;  Secondly is the diet appropriate?;  Is the calorie intake, free from preservatives, and additives, smoking, alcohol etc…. The next question would be how serious and consistent are they in their training? Once all these questions are asked, only then would I consider suggesting supplements to an athlete of mine. Good research about the brand would be the next home work to do. The most common and most effective supplements we make use of are BCAA's and Energy Gels for endurance sports athletes. On a small note, I always tend to refrain from recommending supplements to athletes under the age of 18.  Whilst there is nothing essentially wrong about this, however if one starts a pill popping habit by the age of 15 to improve their performance what will they be having by the competitive age of 18+ ?  
Doping is a reality. Do you feel that people in sport are well aware of the implications of doping and what do you think makes them take prohibited substances.  
Definitely not, it is in our nature to cloud our vision with short term situations and forget about the long term. For the past 8 years I have also formed part of The National Anti Doping Agency as a Doping Control Officer. A lot of first hand experience has thought me that individuals have no idea of the implications – these not only involve the reputation of that athlete and the denial of a clean athlete to win a deserved title but the implications also involve the actual health of that athlete. I think, a very important step is to encourage medical professionals to speak out about the complications they are faced with after such substances are used and abused of.    
What is next for Nigel?  
Well all those in my circle know that my ultimate goal would be to aid a Maltese athlete to qualify to the Olympic Games. Qualifying means achieving the minimum qualifying standards and not a wild card. As soon as this dream is achieved I will stop coaching and move onto administration with the intention of  giving my contribution to better local sport on a large scale.