The 44th Rolex Middle Sea Race has welcomed its first finisher, as the MOD70 Limosa, skippered by Alexia Barrier, rolled over the line at 1310 CEST on Monday afternoon. Taking multihull line honours for the second year in a row as skipper of a maxi trimaran is an important achievement. Barrier and her Famous Project team have their eyes set on the greater prize of an all-woman round the world record attempt in 2025. The 2023 Rolex Middle Sea Race was regarded as an important rung on the ladder to that goal. Elsewhere, the majority of the monohull fleet and the remaining multihulls continue their circumnavigation of Sicily, with close battles ongoing throughout the 102 entries still racing.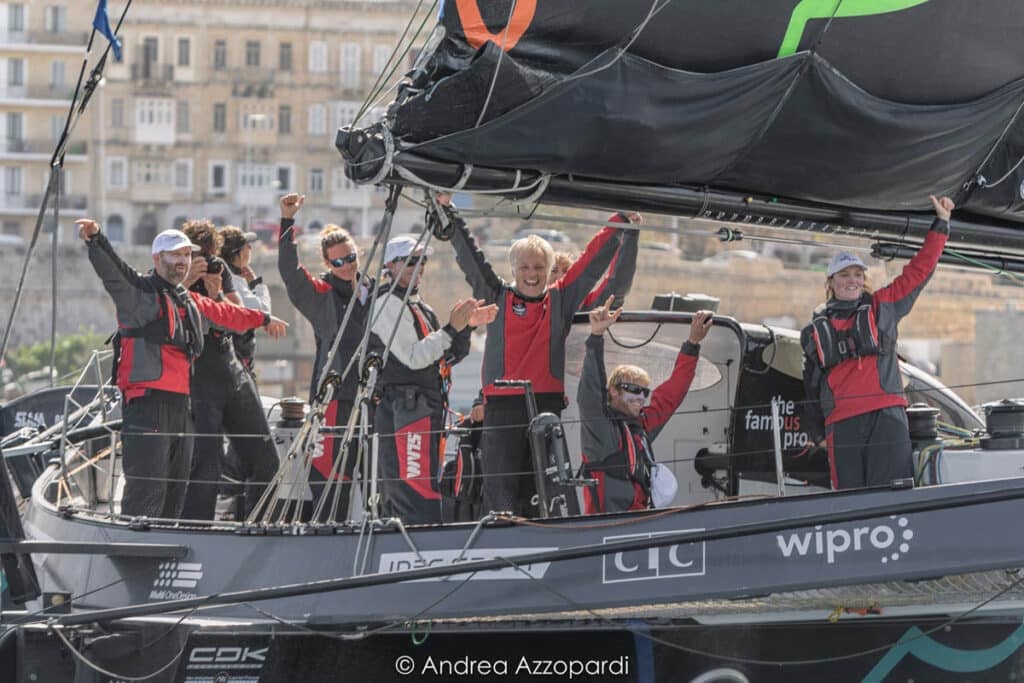 In the monohull line honours contest, the big news of the day was the dismasting just south of Favignana of American entry Lucky, Bryan Ehrhart's 27 metre Juan K flier, and the former five-time first finisher Rambler 88. Receiving the news around 0800 CEST, the Royal Malta Yacht Club Race Control was quick to establish all crew were safe and well, and to offer any assistance required. Lucky has now taken on fuel and is motoring back to Malta.
Taking a broader view at 1600 CEST, Leopard 3 looks to have finally achieved a few miles separation from Andrea Recordati's Italian Wally 93, Bullitt, and is powering upwind on port tack into the penultimate turn at Lampedusa. The 30.78m maxi from Monaco is expected into Malta in the early hours of tomorrow morning. The rest of the fleet is spread out over some 300nm, with the backmarker, Beppe Bisotto's double-handed entry Atame, some 15nm from Stromboli. Looking ahead, the forecast weather suggests the prevailing breeze will continue to be from the southeast, but drop off and become much patchier. With only 13 yachts through the Favignana transit, roughly the halfway point, there is plenty of golf left in the hole.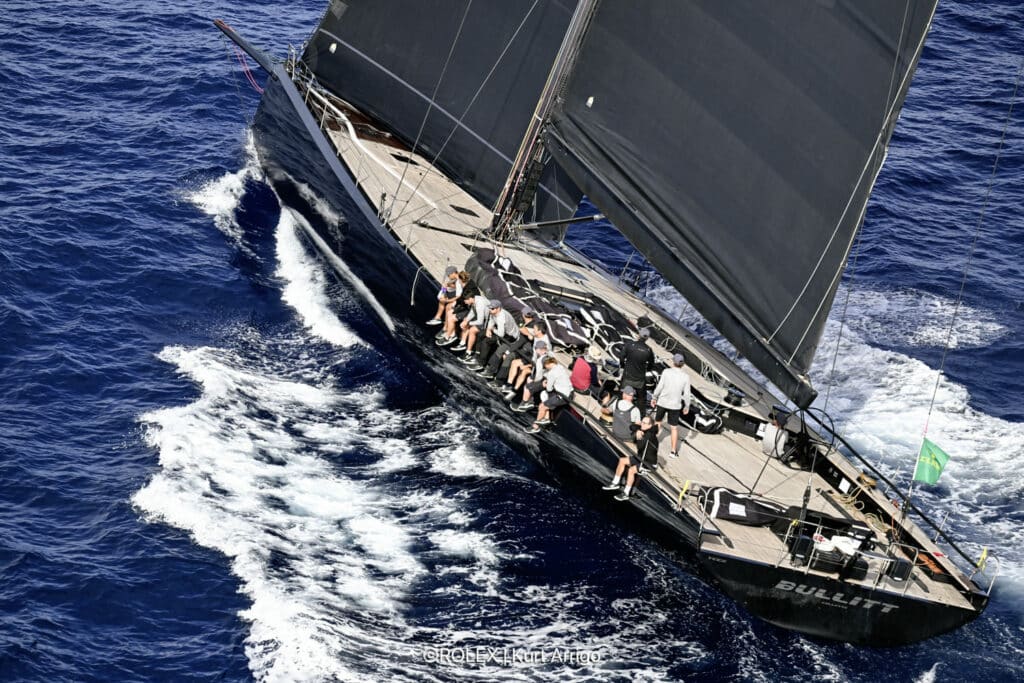 Limosa's elapsed time of 50 hours, 10 minutes and 42 seconds was well off the record pace of 33 hours, 29 minutes, 28 seconds set by Argo in 2021.  However, most of the course was upwind so it stacks up well against previous MOD70 ventures by more experienced teams. On the dock in Marsamxett Harbour, Alexia Barrier, a Vendée Globe finisher, was thrilled to have successfully completed the 606nm course without mishap. Her nine person multi-national crew, including  co-skipper Dee Caffari (GBR), Elodie-Jane Mettraux (FRA), Marie Riou (FRA), Sara Hastreiter (USA), Jonny Malbon (FRA), Jeff Mearing (GBR), Tom Dawson (GBR), Robin Christol (FRA), had performed admirably given it was the first time for some on a MOD70 multihull in race mode. "Even though we were alone we always pushed hard. We did know from the beginning that it would not be the weather to challenge for the record, but we did try our best and I think it was one of our best experiences this year," said Barrier. "In French we say, 'never two without three', so maybe next year we will come back and win again!"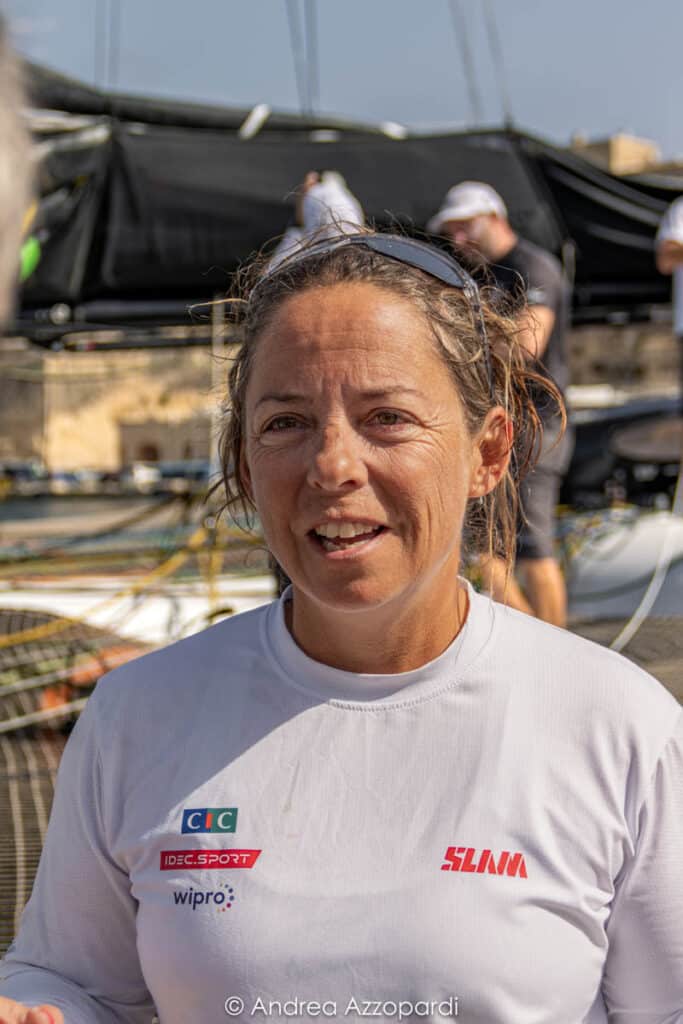 According to Dee Caffari, most of the major landmarks were passed in darkness, but Barrier is constantly impressed by what the course offers. "The Rolex Middle Sea Race is a mighty race in the Mediterranean. It is unique, it is super technical because you can have no wind and really strong wind, so we have everything we need, and I understand why everyone wants to come. I hope next year we can come again and have five MOD70s on the starting line!"
The passage was not without issue, given the power and speed of Limosa. "We had strong winds and lightning entering Messina Strait, which was quite worrying for a moment," smiled Barrier. It was a point picked up by Caffari, the first woman to sail single-handed around the world in both directions, with four other global circumnavigations on her CV. "The course has a little bit of everything and especially at night when you are on a beast like this that just doesn't know anything other than to go fast you have to hang on for the ride and trust the boat," said Caffari. "Alexia won the race last year on this boat, so she was really confident, but for many of us it was the first time steering in those conditions and, in the dark, it always feels so different. It was such a steep learning curve and a huge leap forwards for The Famous Project."
"Right from the start, when we had the gusts coming down the harbour, our time to burn changes drastically. One moment there's 25 knots of boat speed and then five knots," explained Caffari, continuing, "It was difficult to get to the first turning mark when the wind just stopped. Then we got into the breeze line that helped us put in good miles to get to the corner of Sicily and on."
"In Messina in the dark, we had some big accelerations with 30 knots of true wind and, at one point I think, 54 knots of apparent wind which made us all work quite hard. Lots of tacking but not too busy with shipping." On the wind at Stromboli before dawn, the crew did get to see one spurt of lava from Stromboli. A powerful salute from the lighthouse of the Mediterranean to the race's most powerful entry.
"We then had to tack across the top of Sicily to stay in the pressure," described Caffari. "We reached the Egadi islands in darkness, then had a one-sided beat to Pantelleria. A couple of tacks there, before reaching Lampedusa at daybreak this morning. The end of the course was golden for us because I felt like we had tacked our whole way round to that point. We had a 70 true wind angle blast to Malta doing between 20 and 30 knots of boat speed. It was exhilarating and that's why we are all caked in salt but have huge grins on our faces."
Class 40 Focus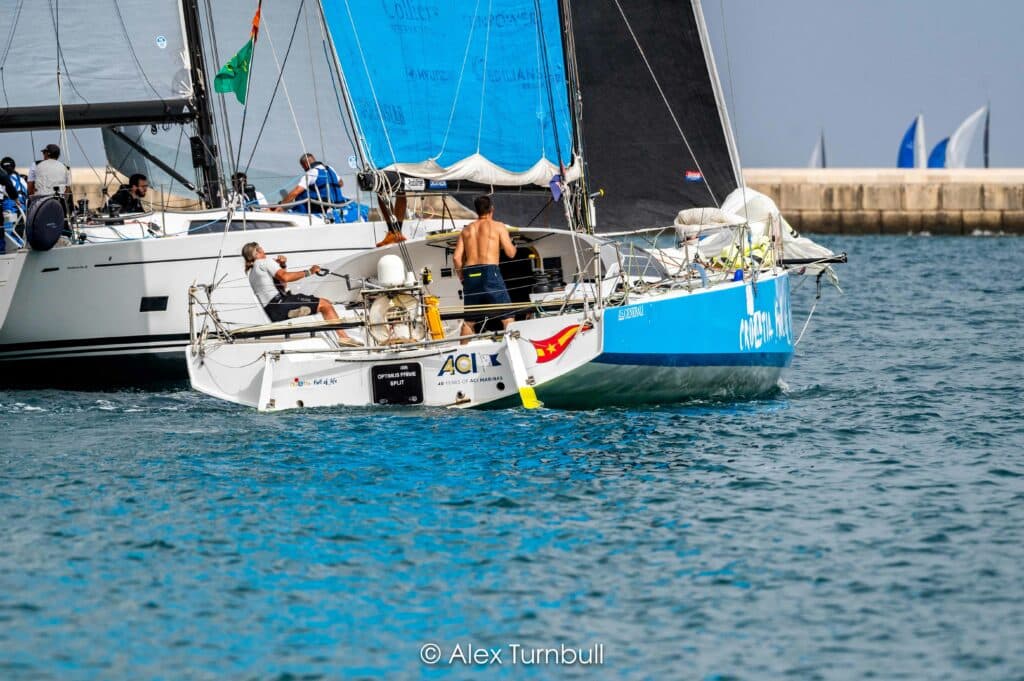 Away from the multihull and handicap classes, the 2023 Rolex Middle Sea Race has attracted a small fleet of Class 40s, with four entries. The standout boat among the four so far has been the Croatian Mach 2 ACI 40, owned and skippered by Ivica Kostelic, the former ski racer with four Olympic silver medals and one world championship gold to his name, along with many other honours in the sport. Leading the class by 10 nm from Karnak skippered by Stefano Raspadori, Kostelic called from just off San Vito lo Capo earlier this morning.
"All is well, sunny weather, in the middle of a bunch of boats trying to get through a calm patch between San Vito and Favignana," advised Kostelic. "We are expecting to turn the corner into 25 to 30 knots, so it will be pretty bumpy tonight." So far, the race has gone well, and Kostelic is happy with his boat and small crew: "We have had some upwind, some reaching and some downwind, and only about two hours with no wind after Stromboli – that's a good race," he continued. "We have taken some risks that have paid off, particularly in the Messina Strait when we took the western option while the 90% of the fleet were on the mainland. We gained a lot."
In terms of their immediate Class 40 opposition, the three-man crew (Darko Prižmić-Prižma and Filip Miroić being the other two) on ACI 40 first took the lead shortly after Capo Passero. Positioning themselves about three miles east of the rhumb line and two other Class 40s, Karnak and Imagin Act Socomec, ACI 40 hit the shift sooner on Saturday. However, approaching the toe of Italy on Sunday morning ACI 40 stayed further offshore and lost the ground made. It was at that point the inspired decision was made to go to the Sicilian shore of the strait. A five mile lead by the northern exit extended to 10 by Stromboli, rounded early Sunday evening. Now off the northwest corner of Sicily the race is far from over. ACI 40 briefly hit the buffers, allowing San Marino entry Karnak to make up some ground. Once through the Egadi Islands the race will well and truly be on.
DAY 3 16.00 IRC ANALYSIS @ STROMBOLI
Albator leads at Stromboli
(Data Source: MyRMYC Time Sector Analysis)
With the Rolex Middle Sea Race well into its third day; 84 boats are still racing under IRC time correction and all but one have passed the spectacular volcanic island of Stromboli, the most northerly point of the course. This iconic landmark of the Rolex Middle Sea Race is also a good point to look at an exact picture of where the boats stand for the overall and IRC Class prizes.
Philippe Frantz's NMD43 Albator (FRA) was the overall race leader after IRC time correction at Stromboli, six minutes and 29 seconds ahead of the Podesta family's First 45 Elusive 2 (MLT). In third place, 28 minutes and 35 seconds behind Elusive 2 was Gilles Caminade's Ker 40 Chenapan IV (FRA).
Benoit Briand, skipper of the NMD 43 Albator said this morning: "We are very happy about our position but this race is not finished, right now we are approaching Favignana and we expect a transition to the new breeze. Our forecast data for the rest of the race looks good, but there is a big gap on the water just in our class. If the wind changes in favour for the boats in front, there is nothing we can do about that. We are trying to limit mistakes, this is a long race and we need to keep our effort at 100%."
IRC 1
Andrea Recordati's Wally 93 Bullitt (ITA) led the big boat class around Stromboli after IRC time correction. Farr 100 Leopard 3 (MON) skippered by Chris Sherlock was an hour 45 minutes and 45 second behind. Third after time correction was VO65 Ambersail 2 (LTU) skippered by Raimondas Siugzdinis.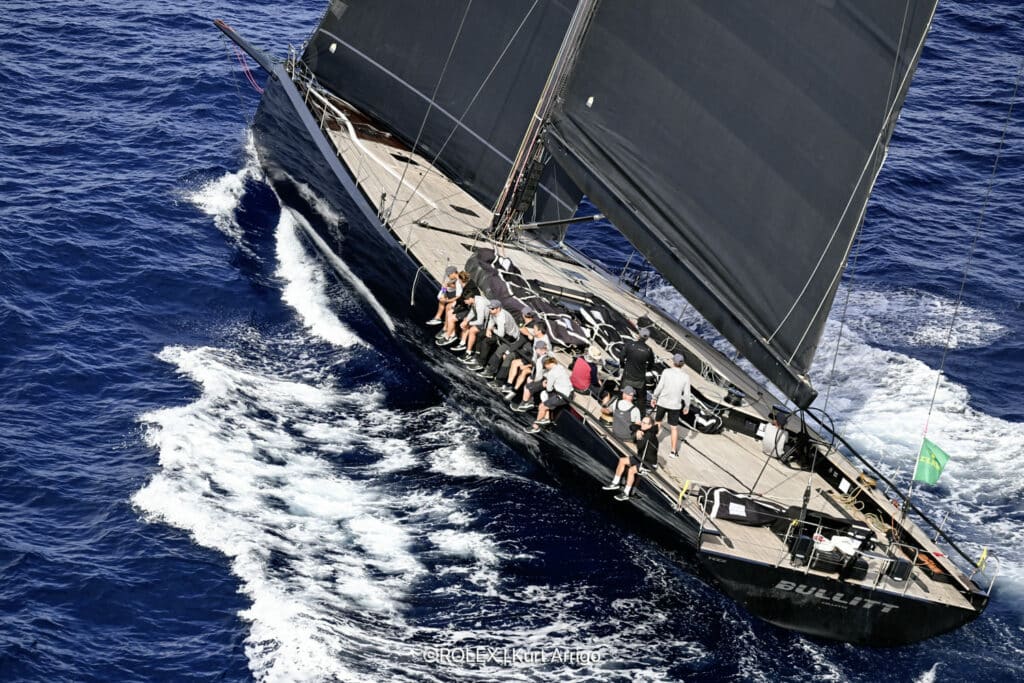 IRC 2
Francois Bopp's Farr 52 Chocolate 3 (SUI) was the class leader after IRC time correction at Stromboli. Franco Niggeler's Cookson 50 Kuka 3 (SUI) was 51 minutes and seven seconds behind after time correction. In third was RORC Commodore James Neville with his Carkeek 45 Ino Noir (GBR).
IRC 3
Albator was leading at Stromboli from Chenapan IV by 35 minutes and 4 seconds after IRC time correction. Third place in IRC 3 was Sascha Schröder's Neo 430 Neomind (GER).
IRC 4
Elusive 2 was leading at Stromboli by 53 minutes and 16 seconds from Conor Doyle's Xp50 Freya (IRL). Third in IRC 4 after time correction was Renzo Grottesi's Swan 42 Bewild.
IRC 5
Richard Fromentin's JPK 1180 Cocody (FRA) was the class leader at Stromboli after IRC time correction. Per Roman's JPK 1180 Garm (SWE) was second by just 2 minutes and 36 seconds. Third in class was Frans van Cappelle's J/122 Moana (NED).
IRC 6
Guido Baroni's Sun Fast 3600 Lunatika (ITA) was the class leader at Stromboli after IRC time correction. Christina and Justin Wolfe's Sun Fast 3300 Red Ruby (USA), racing double handed, was second in class by just 4 minutes and 29 seconds. Third in class was Simon Toms' Sun Fast 3300 Zephyr (GBR).
RANKING FOR 13 BOATS PASSED FAVIGNANA
At 16:00 CEST on Monday, 23 October, 13 boats had passed Favignana with 71 boats still to reach the northwest extremity of the course, roughly 280 nautical miles from the finish. Giovanni Di Vincenzo's Ker 46 Lisa R (ITA) was leading after IRC time correction. Chris Sheehan's PAC52 Warrior Won (USA) was second after time correction. In third was Frédéric Puzin's Ker 46 Daguet 3 (FRA).