Gift Vouchers often get the bad rap.
They are often considered impersonal gifts that are only given by people who are lazy or don't care to buy a "real" gift. And sure, people will often talk about the gift card they got and have never used. But let's be real, we have all gotten a gift that we never used. At least if it's a gift card it won't be taking up valuable space in your home.
What is cool about our vouchers is that you choose the amount you want to spend – no fixed values that limit your spend.
Vouchers are available to purchase from the Club Secretariat. They are valid for six months and applicable for purchases made at the RMYC Shop.  We have some really cool stock that we are sure you want to get your hands on!
Our vouchers take the hassle out of trying to find the perfect present for a loved one. But…if you are still not convinced have a look at the 6 Reasons Why a Gift Voucher is a great idea!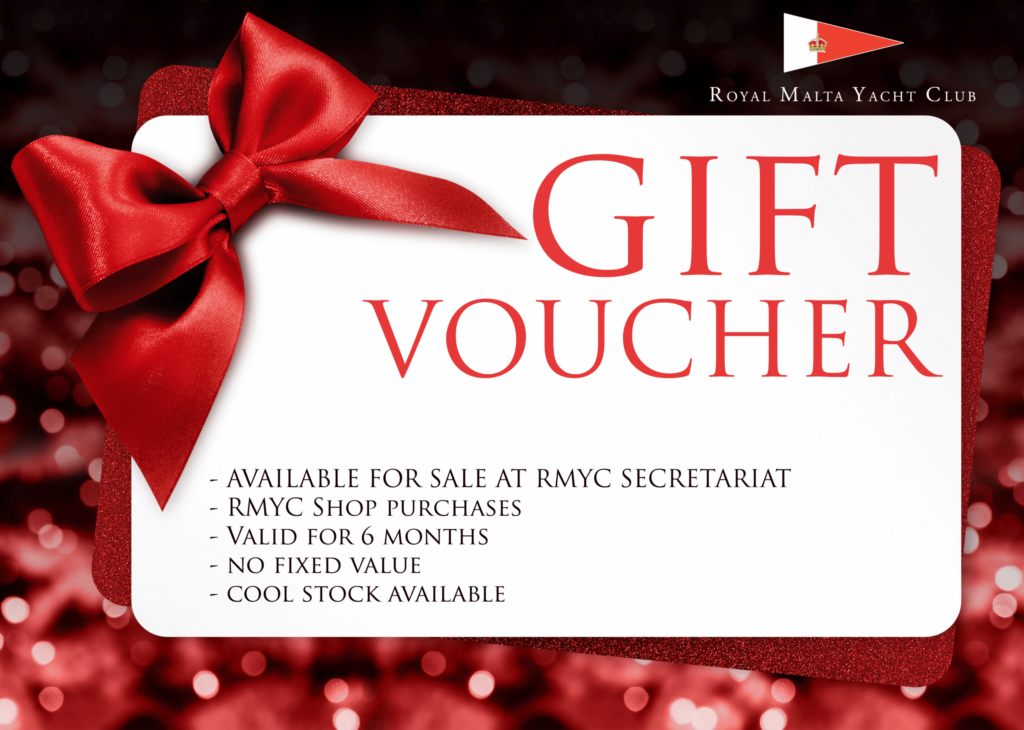 1. No more unwanted gifts
Buying things that aren't wanted isn't just awkward – it's a waste of money, time and resources. By giving an RMYC Gift Voucher you eliminate the chance of a disappointing present, and lets your loved one to choose something they actually want.
 
2. It's kinder to the environment
It's not just unwanted gifts that might find their way to landfill. Choosing cheaply-made gifts that break by January does no one any favours. An RMYC Gift Voucher will give you the freedom to choose any amount you like, adapting to your budget.  Oh, and there is no wasted wrapping paper either!
 
3. It forces them to treat themselves!
Some might consider cash as the best gift of choice, but life gets in the way and cash is never really put aside to treat oneself. An RMYC Gift Voucher is a conscious present that means your gift recipient will have to treat themselves to something they love, instead of the weekly shop.
 
4. Money well spent
The gift-giving expectations we place upon ourselves are so strong, we can easily forget our money is hard-earned, and shouldn't be thrown away thoughtlessly! RMYC Gift Vouchers ensure that gift purchases are productive, thought-through and wanted. This is a way to respect your money, and the time you spent earning it.
 
5. There's no accounting for taste
Clothing and accessories consistently top the list of gifts that miss the mark. This is because taste and style are so personal, even if you think you know what someone likes, it's fairly likely you don't. Let them choose something they actually love, avoiding any awkward unwrapping moments.
 
6. Don't rush into a bad purchase
We've all been there – that anxiety-fuelled power walk around the high street buying a 'that'll do' gift you know isn't right just before the shops close. Purchasing an RMYC Gift Voucher is not only stress-free and instantaneous, it allows the recipient to carefully select their own gift, without any rush.