Winning the Rolex Middle Sea Race Trophy is the ultimate prize of the eponymous 606nm race. This year, charged with untangling a complex and highly changeable weather scenario, scoring the best time after IRC time correction across a fleet of 98 eligible yachts required both passion and precision. Having exhibited both, in sufficient measure, Eric de Turckheim's French NMYD 54 Teasing Machine has been declared the winner of the 43rd Rolex Middle Sea Race organised by the Royal Malta Yacht Club.
Taking part in his seventh Rolex Middle Sea Race, de Turckheim's appetite for offshore racing coupled with his team's experience and unflinching attention to detail were the keys to the team's success. Teasing Machine is the fourth French yacht to have won the Rolex Middle Sea Race following in the footsteps of Antares (1981), Spirit of Ad Hoc (2008) and Courrier Recommandé (2018).
"From a very young age, I have had a passion for the 600-mile races, to me they are like the tennis majors," commented de Turckheim.  "Teasing Machine has made the podium at such classics around the world in the past: the Rolex Middle Sea Race, the Rolex Fastnet Race, the Rolex Sydney Hobart, and the RORC Caribbean 600. So, it is a huge emotion to win a grand slam event of sailing. On top of the elation of victory, this is also our favourite race because of the extreme technical complexity of the course and the weather."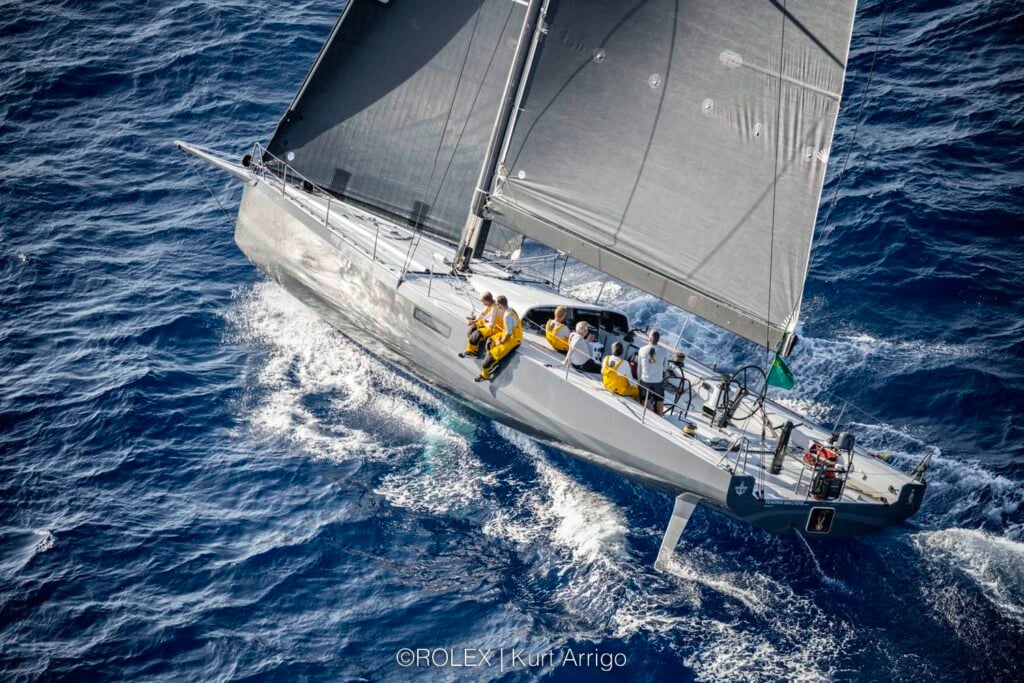 "Teasing Machine was built to compete against other 50 foot race-boats, especially the TP52s. As with any prototype concept, we have modified Teasing Machine over the years," explained de Turckheim. "Our approach when Teasing Machine was first designed was to have a heavier boat than the competition, with a very competitive rating. We quickly realised we were too slow, so we have chosen to lighten the boat since its launch. Winning the Rolex Middle Sea Race is proof that our optimisation has been successful."
This was by no means an easy win. A number of different yachts held the pole position under IRC at the various transit points around the course and the race lead ebbed and flowed like the wind.  In Teasing Machine's case, it was not until 340nm into the race at Favignana on the north-western corner of Sicily, that the French crew properly came into the reckoning, ranking third overall. By Pantelleria, it was up to second, eventually gliding into pole position upon rounding Lampedusa. Still nothing could be taken for granted. Stress levels heightened on board for the final few miles. Near windless conditions off Valletta saw Teasing Machine take 45 minutes to race the last 1.5nm.
Tactician and navigator Laurent Pagès, a 2011/12 Ocean Race winner, has been an integral part of the project since conception. "There are critical points in the Rolex Middle Sea Race, which are always tricky. These critical points require tough calls, where you have to think well ahead. In between, the race is business as usual: get the boat moving fast and make good manoeuvres," he said.
Yacht racing is sometimes described as a three-dimensional game of chess. "Each decision is influenced by analysing the  weather models, looking at the differences and making the right compromises," continues Pagès. "The time of day or night that you arrive at the critical points affects the angle of approach to make the best of the wind and current. This race creates a need to analyse a great mix of information. You need to know how your boat will react to specific situations. In this race, sometimes you have to make radical calls because taking a conservative decision does not always work."
The Teasing Machine crew are a tight-knit bunch, having experienced the highs and lows of offshore racing without ever reaching the top rung before now. The team's lowest point during a Rolex Middle Sea Race was probably in 2018 when, having spent the entire race as far as Lampedusa on or very near to the overall podium, the port runner broke and the yacht was close to dismasting forcing retirement. "We are very happy especially for Eric," concluded Pagès. "This has been a huge team effort, but we always remain humble. In the past we came close to winning this race on three occasions, so to win now by just 20 minutes is a great feeling. However, we always remember that the distance from victory to defeat is a very small margin."
Teasing Machine Crew: Eric de Turckheim, Laurent Pages, Christian Ponthieu, Quentin Le Nabour, Tony Brochet, Gabriele Olivo, Betrand Castelnerac, Paco Lepoutre, Alexandre de Girval, Jerome Teillet, Quentin Bouchacourt
Day 6 IRC Class Update 1630 CEST
The general picture looks much the same as this morning. High pressure continues to dominate, particularly the western side of the racecourse. A north-easterly flow south of Italy is starting to influence the leg from Lampedusa to Malta, and may well help bring those yachts still persevering back to Malta in time for Saturday's prize giving.
As at 1630 CEST on Thursday, 27 October, with the arrival of Chocolate 3, 20 yachts racing under IRC Time Correction have completed the course. 37 boats are still competing, while the remainder have retired.
PROVISIONAL STANDINGS
IRC 1
Jean-Pierre Barjon, Botin 65, Spirit of Lorina (FRA)
Marton Josza, Reichel/Pugh 60, Wild Joe (HUN)
Niklas Zennstrom, CF 520, Rán (SWE)
IRC 2 – THREE TO FINISH
Eric de Turckheim, NMYD 54, Teasing Machine (FRA)
ForStar Offshore Racing Foundation, TP52, Red Bandit (GER)
Gerald Logel, IRC 52, Arobas2 (FRA)
The next yachts to finish should be Rolf Relander's Cookson 50 Furiosa (EST) and Jean-Pierre Dreau's Mylius 60 Lady First  3 (FRA), currently 45nm from the South Comino Channel sailing at 6 knots Katarzyna Ostrowska and the Tripp 50, Fast Furious (POL) have just passed Pantelleria.
IRC 3 – LEADER FINISHED
James Neville's HH42 Ino XXX (GBR)
Artie III (MLT) co-skippered by Lee Satariano and Christian Ripard, is 37nm from the South Comino Channel and sailing at a dizzy 5.5 knots. Dominique Tian's Ker 46 Tonnerre de Glen (FRA) is about 18nm astern at a similar speed. Gilles Caminade's Ker 40 Chenapan 4 (FRA) has reached Lampedusa, along with Maciej Gnatowski's HH42 Scamp 3 (POL) and Dr Sasha Schroeder's Neo 430 Roma Neomind (GER). Bernard Hyde's New Zealand entry High 5, a Cookson 47, is the last yacht in class and has passed Pantelleria.
IRC 4 – LEADER ROUND LAMPEDUSA
Philippe Frantz's NMD 43 Albator (FRA) is still the only yacht to have rounded Lampedusa. At Pantelleria Albator held a six hour advantage over second placed Elusive 2 (MLT) the Podesta's Farr 45. Esentia (POL), the Grand Soleil 44 entered by Marcin Sutkowski, was in third a further hour back. Esentia has just reached Lampedusa with Conor Doyle's Xp50 Freya 5nm in arrears and Elusive 2 a further 5nm back. Maks Vrecko's Elan 450 Karpo (SLO), Marco Paolucci's Comet 45R Libertine (ITA) and Thierry Deseine's J&V 45 Leu (FRA) have still to reach Pantelleria.
IRC 5 – LEADER ALMOST AT LAMPEDUSA
Gianrocco Catalano's First 40 Tevere Remo Mon Ile (ITA) is 4nm from Lampedusa, sailing at 5 knots. With the retirement of Ed Bell's JPK 1180 Dawn Treader (GBR) this morning, Beppe Bisotto's Fast 42 Atame (ITA), racing double handed with Catherine Jordan, is up to second (and last) place in class. Atame is 30nm north of Pantelleria.
IRC 6 – LEADERS PASSED PANTELLERIA
Two yachts have now passed the midway point of the western leg of the course. Massimo Juris' JPK 1080 Colombre (ITA) continues her slow progress to Lampedusa and is currently 26nm away. Ludovic Gérard's JPK 1080 Solenn for Pure Ocean (FRA), racing double handed, is now 50nm behind but has at least passed Pantelleria. Seb Ripard's J/99 Calypso (MLT) still closer to Tunisia than anywhere else is also through the Pantelleria transit. Currently, Calypso is second 16 hours behind on corrected time, with Solenn 45 minutes behind. Andrew Agius Delicata and Matthew Gabriele' Vivace (MLT) Reflex 38 is 11nm from Pantelleria with Jarhead's Young Sailors Foundation entry, the J/109 JYS Jan 8nm further back. Luigi Paoletti's Dufour 405GL Tattoo (ITA) remains last boat on the course, but is at last through the Favignana transit with 253nm still to go.
IRC DOUBLE HANDED
Solenn for Pure Ocean led by 12 hours on corrected time from Atame at Favignana, and is the only one of the three remaining double handers to have passed Pantelleria. Libertine has 11nm to go and Atame is a further 17nm behind.