If yesterday's story of the 44th Rolex Middle Sea Race was the first multihull to finish, today's is definitely monohull line honours. At 0152 CEST this morning, the fascinating race-long duel between the Farr 100 Leopard 3 and the Wally 93 Bullitt concluded. It was the Chris Sherlock skippered Leopard 3 that glided into Marsamxett Harbour first on a cloudy, but moonlit night. The waterline length of the older, but revitalised, Monegasque-flagged maxi proved decisive once through the Egadi Islands, off northwest Sicily, converting a 30-minute lead into a more comfortable one hour, 50 minutes. Bullitt at least has the consolation of winning IRC 1 on time correction.
"We are really pleased to have won line honours in the Rolex Middle Sea Race for a second time," said Sherlock, who has been with boat since its launch in 2007 and oversaw a comprehensive refit following the 2022 race. "It's been a difficult 12 months getting the boat up and ready after the last win. So, to do it again against such esteemed competition like Lucky and Bullitt is really pleasing." Leopard's owner was also celebrating a second win in a row with the boat. "It is a great feeling because this is a magnificent location and course," he said. "We did not have a lot of problems, so all credit to the team because we have worked very hard on the boat since last year."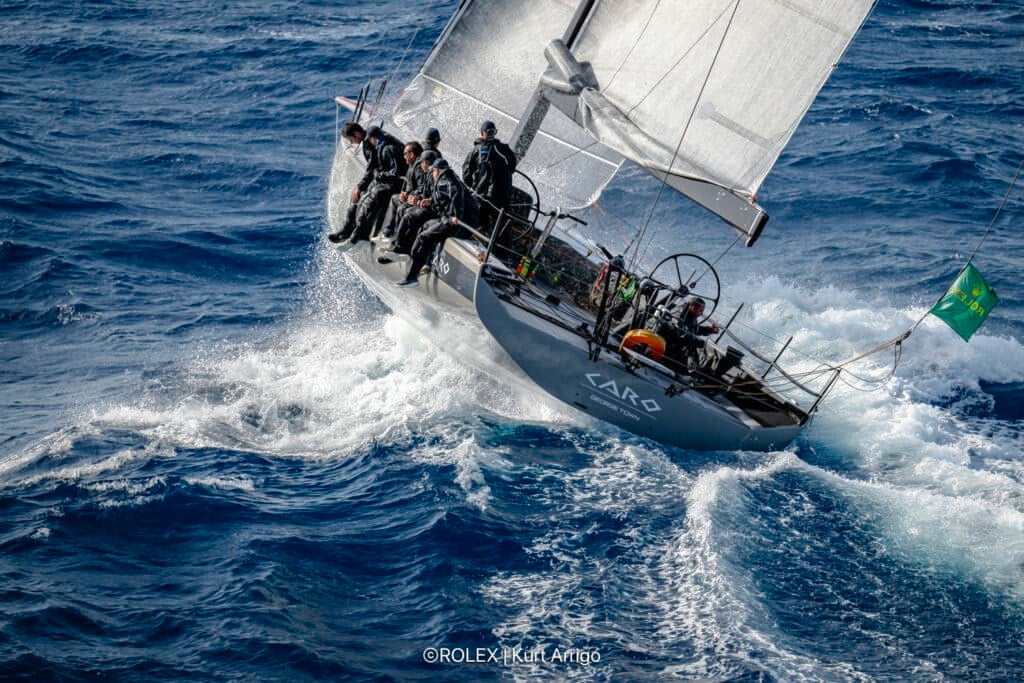 Back out on the course, the battle is still raging. All other class prizes are still up for grabs, and most importantly the overall prize has yet to be decided. In IRC 2 on Monday evening, the front runners on the water, Max Klink's Swiss Botin 52 Caro (winner of the Rolex Fastnet Race in July) and Chris Sheehan's American Judel/Vrolijk 52 Warrior Won (third overall at the same race) looked to have made a clean break from their pursuers. Even a wobble during a tricky transition at Pantelleria was minor distraction. Piling on down to Lampedusa, Warrior Won had wrested a small lead, and must have been relishing the turn towards Malta and the more open angle enjoyed by Leopard and Bullitt. Arriving at the western end of the isolated landmass at around five o'clock in the morning, it was as though the crews just deployed their anchors. Italy's southernmost outpost is only seven miles (11km) in length. It took Caro and Warrior Won three hours to clear its southern shore and turn northeast towards the finish. At 1600 CEST, Caro is just under 30nm from the South Comino Channel with her American rival just behind. Both should finish around 2000 CEST, out of the running for the overall win and looking over their shoulders at the chasing pack with regards to class honours.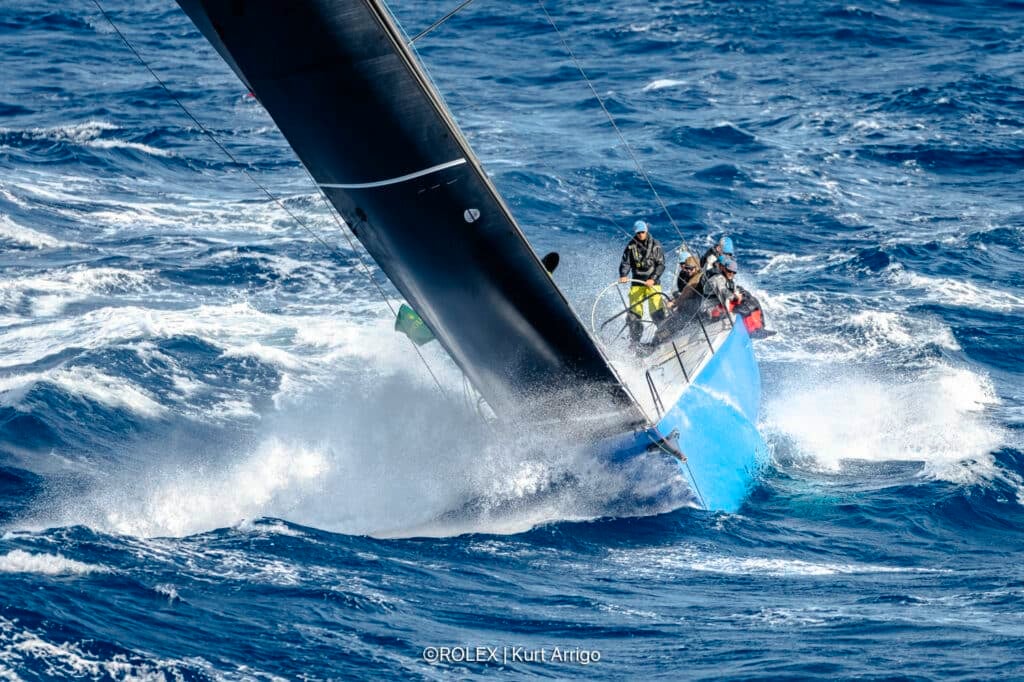 In the lower order classes, the fleet is spread between Lampedusa in the south and Palermo in the north. The wind is all over the place, with westerlies above Sicily and huge holes to the south. Waves of pressure from the west are due to sweep over the course area during the coming hours. Staying in phase with the bands will be critical if one aspires to do well. The bottom of the course is currently in the breeze, favouring the Ker 46s Frederic Puzin's Daguet 3 from France and the Francesco Bertone skippered Lisa R from Italy in IRC 3, and Renzo Grottesi's Italian Swan 42 Bewild and Conor Doyle's Xp50 Freya from Ireland in IRC 4. Just a few miles to the north, the Podesta family's Maltese First 45 Elusive 2, racing without wind instrumentation, and Montenegro entry Marina Rubicon / X-Odessa skippered by Riccardo Terrades are almost at a standstill. North of Pantelleria, Christina and Justin Wolfe's double-handed Sun Fast 3300 Red Ruby from the United States in IRC 6 continues to make progress south, while the Maltese entry OpenPayd BeFree a J112/E skippered by Horst Huesley and Jonathan Camilleri Bowman is struggling. North of San Vito lo Capo, first-timer Simon Xuereb and his Maltese Dufour 40 Spirit of the Wind are in the breeze, while Beppe Bisotto and Atame are making slower progress a couple of miles to the east. And so, it goes on. Whether the mud will be any clearer tomorrow morning remains to be seen.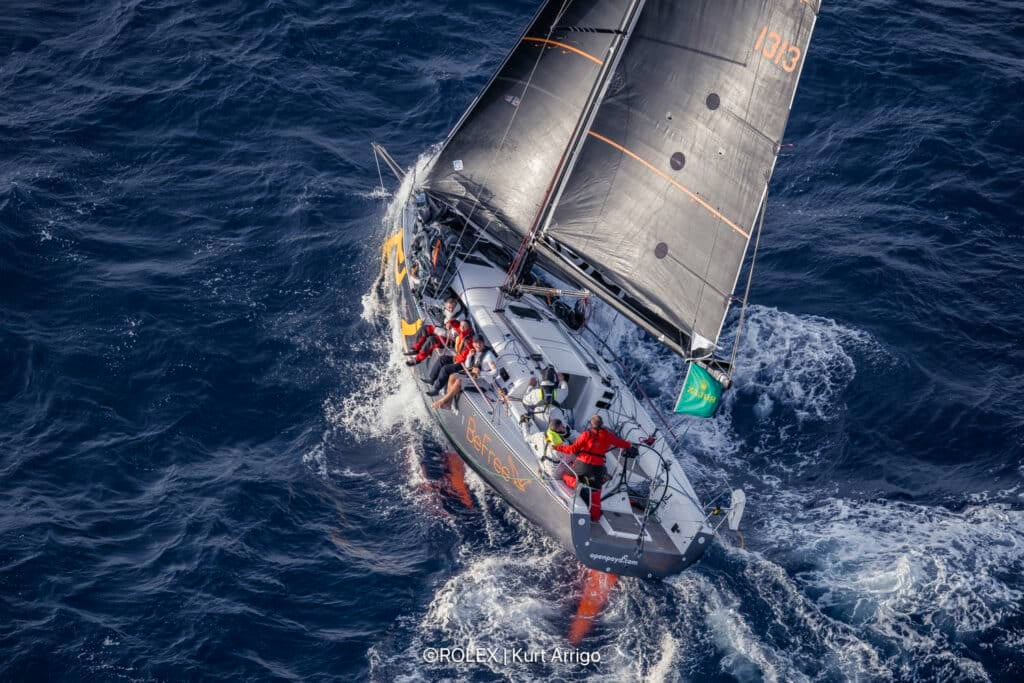 Back to the fleet of foot, and Andrea Recordati, the owner of Bullitt, had this to say shortly after stepping ashore: "Obviously the Rolex Middle Sea Race is one of the races in the world. It is exciting, the scenery is unmatchable, and you get all sorts of conditions. In the Mediterranean, it is the offshore race so far as I am concerned."

Mark Lagesse, the navigator, explained how the Wally had kept Leopard 3 honest as well as the key point in the race to be first to finish. "Before the race, our early strategy was to get north as quickly as possible. Initially we had too small a headsail up, and it is so hard to change sails on Bullitt. However, the breeze built to over 20 knots with a big sea state, so at this point we looked for flat water and less wind to preserve the boat." This critical decision-making proved to be working because Bullitt entered the 20nm channel ahead of Leopard, and just behind Lucky. "We then hugged the mainland coast of Italy to keep out of the current," continued Lagesse. "Half way up the Strait, we hitched back into the beach, Lucky tacked into the current and they lost out. Both us and Leopard stayed all the way in to the shore, you could have thrown a tennis ball to the beach."

"At the ferry terminal we swapped over to the Sicilian side, as the current was less, and popped out of the Strait in first place, which was super-surprising. Lucky was still stuck in the current and we put four miles on them. Leopard got through about a mile and a half behind, but got some land breeze and rolled us."

"We got them back as we got the wind, and we were neck and neck all the way to Stromboli. In terms of enjoyment this was the best leg of the race; 12 knots of wind, flat water and beautiful, as well as the cut and thrust with Leopard. At Stromboli, Leopard crossed our bow by just a boat length."

"After Stromboli, Leopard covered us from the front on every tack, which I take as a compliment. With a canting keel they were on a favourable angle. The legs to Pantelleria and Lampedusa were relatively straight-forward, but by Lampedusa we were 20 miles behind. We had them on corrected, so our strategy from there was just to put all the crew on the rail and send it."

Mitch Booth, one of two watch leaders on Leopard 3 has now won line honours three years in a row. "This year the field was really strong and we are not rated as fast as Lucky, so we expected it to be a real battle with them for line honours," explained Booth. "We had a very conservative start to avoid being over early or fouling another boat. The first part of the race was very tricky with a lot of wind changes. We did not manage that so well and when we got in the strong northerly breeze we had some issues, but had reduced sail in anticipation so were able to stay in touch even if not in good shape."

Booth agreed with Lagesse that the key moment in this part of the race was the Messina Strait passage. "We were really hugging along the coast trying to keep out of the current. Lucky kept going out into the middle and every time they lost ground. So we kept scraping the rocks all the way down the right hand side of the channel, and were fortunate to escape with Bullitt just around the same time. And that left the two of us in a match race to the finish."

Sherlock agreed, "We got through Messina with literally three or four minutes to spare. Us and Lucky were vying to be second out behind Bullitt. We got through and Lucky, five or so boat lengths behind us, got stuck and lost what turned out to be 20 odd miles."

Booth picks up the tale again, "Bullitt really put up a huge battle, I have to give them so much credit for the way they sailed. We thought we would eventually stretch away from them quite easily, but we could never get more than an hour and half in front.
In terms of the race as a whole Sherlock, who first took on the course in the IOR maxi-racer Longobarda in 1997 and was on his sixth assault this year, is full of praise: "I think the Rolex Middle Sea Race is one of the most special races. The reason being is that it is a circle and usually every dog has its day. Everybody should get a bit of their good stuff. That said, this edition suited us with 90% being upwind!"
DAY 4 IRC ANALYSIS @ 1600 Tuesday, 24 October
(data source: Time Sector Analysis MyRMYC)


The 2023 Rolex Middle Sea Race is well into its fourth day. 79 boats are still racing under IRC for the overall win and some 45 boats racing under IRC have passed the Italian island of Pantelleria in the Strait of Sicily. Renzo Grottesi's Swan 42 Bewild (ITA) was the overall race leader after IRC time correction, 44 minutes and 17 seconds ahead of Per Roman's JPK 1180 Garm (SWE). In third place, nine minutes and 56 seconds behind Garm was Philippe Frantz's NMD43 Albator (FRA).
IRC 1
The top three for the big boat class has been provisionally decided. Andrea Recordati's Wally 93 Bullitt (ITA) has scored the best corrected time by just over two hours from Farr 100 Leopard 3 (MON) skippered by Chris Sherlock. Roy P. Disney's Pyewacket 70 is in third place.

IRC 2 @ Lampedusa
Francois Bopp's Farr 52 Chocolate 3 (SUI) is looking unbeatable leading the class at Lampedusa. Franco Niggeler's Cookson 50 Kuka 3 (SUI) is second after time correction, but by 2 hours and 52 minutes. In third was RORC Commodore James Neville with his Carkeek 45 Ino Noir (GBR).

IRC 3 @ Pantelleria
Albator was still leading the class at Pantelleria after time correction, but two new boats have joined the class front runner. Birgitta & Lars Elfversson's Ker 40 Swee (SWE) was just 13 minutes behind Albator. In third, was Lee Satariano's HH42 Artie III (MLT) co-skippered by Christian Ripard.
IRC 4 @ Pantelleria
Bewild was leading at Pantelleria by 1 hour and 25 minutes from the Podesta Family's First 45 Elusive 2 (MLT). Third after time correction was Conor Doyle's Xp50 Freya (IRL).

IRC 5 @ Pantelleria
Per Roman's JPK 1180 Garm (SWE) has regained the lead. Richard Fromentin's JPK 1180 Cocody (FRA) dropped to second, 32 minutes and 22 seconds behind Garm after time correction. Third in class was Johnathan Gambin's Dufour 44 Ton Ton La Ferla (MLT).

IRC 6 @ Favignana
Christina and Justin Wolfe's Sun Fast 3300 Red Ruby (USA) had a fantastic leg across the top of Sicily to open up a lead of over four hours by Favigana. Seb Ripard's J/99 Calypso (MLT) racing double-handed with Sam Pizzuto was second in class. Third, but now by only 5 minutes was Simon Toms' Sun Fast 3300 Zephyr (GBR).