Luis Azzopardi and Sara Baldwin's Corona register first win at the Camilleri Marine Marzamemi Regatta
The Royal Malta Yacht Club made a welcome return to one of its popular haunts in Sicily, Marzamemi earlier this month, when it hosted the Camilleri Marine Marzamemi Regatta.  The Regatta was a highly competitive event, which welcomed a mix of experienced and rookie sailors to the fleet.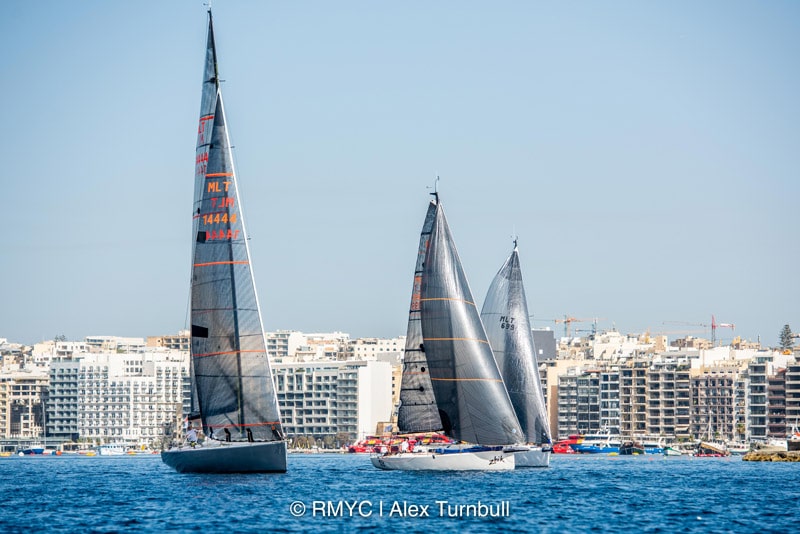 The race to Marzamemi started from Marsamxett Harbour under the instructions of Race Officer Luca Lacitignola.  The Ripard's J99 Calypso was the first out of the harbouur mouth attempting to assert its position as the leading boat as it tried to shrug off competition from Luis Azzopardi's Corona and Godwin Zammit's Inspiration.  Corona soon took the lead, which it kept until they reached Capopassero.  The lack of wind there meant that they stopped for approximately an hour which is when Calypso arrived close by.   A light North Easterly breeze of about 3 knots enabled them to make a bit of progress towards the final destination, Marzamemi, however, the wind outside the harbour dropped once again causing both boats to stop.  A light breeze enabled Corona to a tricky finish at the end to cross the line first.   With ratings coming into play, it was Calypso who won the Malta-Ragusa race with Corona finishing in second place. Third-placed Janissah, skippered by Mario Debono was also the third boat to finish.
As is customary with Marzamemi fleets, the crews congregated in the much-loved piazza for some long awaiting socialising. There was more socialising the next day when the Club hosted a casual dinner at the Marina.
The return home was another successful race for Corona, who in spite of problems with the spinnaker halyard which slowed their start, managed to have a good run to Malta particularly when a north-westerly breeze starting increasing at they approached Malta and once again were the first to cross the finish line in front of the Royal Malta Yacht Club.
This was Corona's first victory since skipper Azzopardi took up racing last year.    Second, to finish was Inspiration followed by Anton Calleja's Lartista.  The dying wind conditions as the day progressed meant that the rest of the fleet retired since they would not have been able to make it to the finish line before the established cut-off time. 
 "All crews who have taken part in the Marzamemi Weekend Regatta have a particular affection towards this race.  This year was even more significant since the Club had not been there for a while due to the pandemic" remarked David Cremona, Commodore, Royal Malta Yacht Club. "The Club is thoroughly appreciative of the support Camilleri Marine has given us which makes these events more unique." 
Camilleri Marine Marzamemi Regatta participants were hosted to a Prize Giving evening on the Club's roof, where prizes donated by Camilleri Marine were presented to the winners.
Camilleri Marine Marzamemi Regatta Overall Winners
| | |
| --- | --- |
| 1st | Corona (Luis Azzopardi / Sara Baldwin) |
| 2nd | Inspiration (Godwin Zammit) |
| 3rd | Lartista (Anton Calleja) |
Race 1 Winners 
| | |
| --- | --- |
| 1st | Calypso (Sebastian Ripard / RLR |
| 2nd | Corona (Luis Azzopardi / Sara Baldwin) |
| 3rd | Janissah (Mario Debono) |