The 44th Rolex Middle Sea Race is now over 24 hours old, and the picture is starting to develop. The fleet has spread out over the course, with the front-running multihull well on the way to Favignana and the slowest monohull still parallel with Etna, over 200 nautical miles in arrears. After a slow start for many classes yesterday, the wind picked up in the afternoon for the passage to Sicily, as the northwesterly filled in. Overnight crews experienced tough conditions as they made progress up the eastern seaboard of Sicily towards the Messina Strait. The predicted transition to a northerly wind, developed a bruising sea in the hours darkness causing problems for some crews. Sunday has not been a day of rest, but at least conditions have been calmer.
By 1600 CEST on Sunday 21 October,  Limosa, the French MOD70 led by Alexia Barrier, was just past Palermo towards the northwest corner of Sicily making 10 knots in a similar amount of westerly breeze. By contrast the leading monohulls, Leopard 3 from Monaco – last year's monohull line honours winner – and Italian entry Bullitt (second on the water in 2022) were just north of Alicudi also tacking upwind in 10 to 12 knots and making 11 knots. Meanwhile, the American maxis Lucky and Pyewacket 70 are working hard to make up for a punishing passage through the Messina Strait, which saw the pair lose considerable ground in the race to be first monohull to finish. Not as much ground as Paprec Sailing Team (Spirit of Malouen X) and Django. Both were forced to retire with equipment issues. Django reported damage to mainsail cars while sailing in 27 knots and confused seas during the night.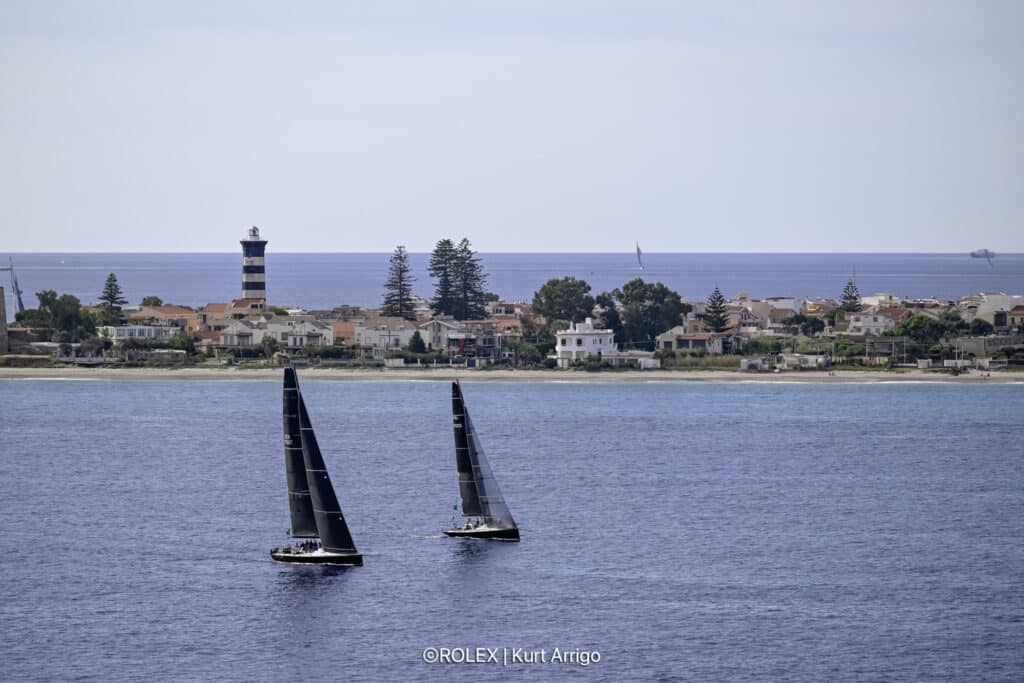 Elsewhere, over half the remaining fleet is through the Messina Strait and on its way to Stromboli, and the next turning mark at Strombolicchio. With the tide about to turn in the narrow channel and the breeze scheduled to drop off at nightfall, the pressure is on for those to the south of Torre Faro, at the northern mouth. For the crews heading to the volcanic island, the same threat of weakening pressure exists. Sunday evening through to the early hours of Monday morning looks particularly difficult between Ustica to the west and Alicudi, the last of the Aoelian Islands, in the east.
Reports from the boats have been piling in during the day, as crews take stock of a tough first section to the race. Jonny Malbon, on Limosa, confirmed the difficulties faced the previous night: "After Capo Passero we saw over 30 knots with a big sea state and upwind conditions, which was not much fun." The situation improved after clearing Messina: "Heading to Stromboli we have really good conditions; much lighter, ten knots of wind and we are almost heading straight for the volcano." Limosa escaped the strait at 0042 CEST and eventually passed Stromboli at 0552 CEST this morning.
Will Best, navigator on Leopard in IRC 1, explained how the 30.78m maxi negotiated the Messina Strait leaving close rivals Lucky and Pyewacket 70 struggling in foul tide and no wind. "Basically, it was all about staying close to the right side of the strait for the shift, then short tacking the beach," said Best. "I think the breeze just hangs on the edge at night. We got out the top just in time. Literally five minutes later and we would have been sitting with the rest." Following a good passage to Stromboli, Best was thrilled to reach the icon of the race in its full glory. "I've not seen much of Stromboli in daylight over the years, so it made a nice change," he commented. "It's amazing scenery, especially Strombolicchio out on its own. The next leg is going to be far from easy. We have a mixed bag of opinion from all the different weather models on the smaller detail we are looking for. It's already trending down but hopefully we will get through to the new breeze without a full on shut down." Bullitt exited the strait first at 0526 CEST, with Leopard 20 minutes behind. At Stromboli, Leopard was in the lead by two minutes, both rounding just after 1030 CEST. Lucky and Pyewacket 70 were three hours in arrears.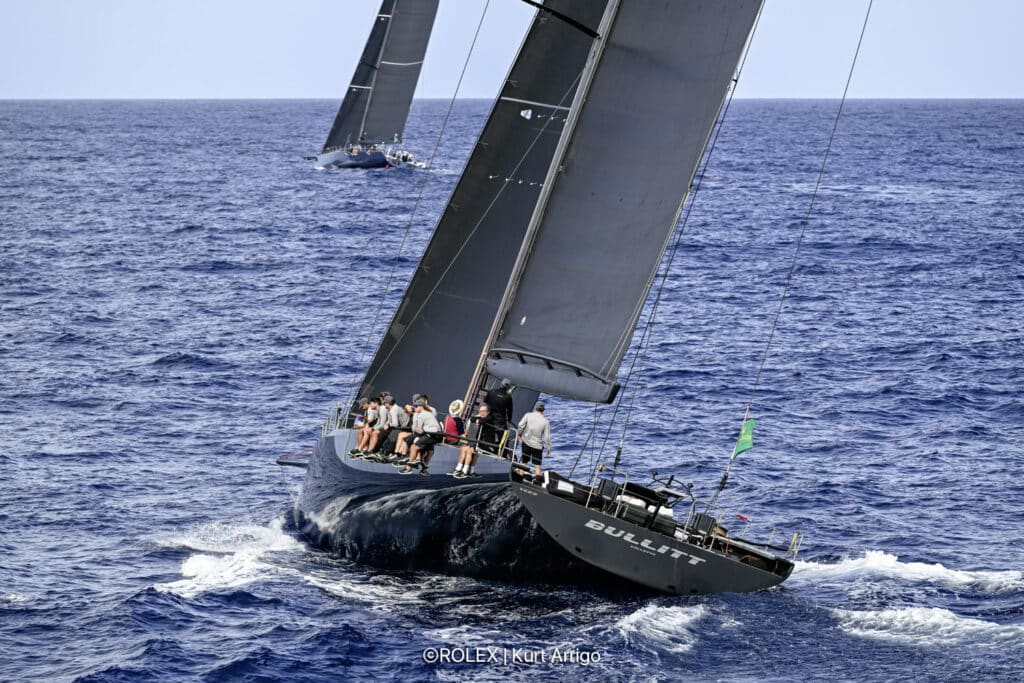 Among the IRC 2 fleet, there are also mixed tales. The Greek Ker 47 Optimum S – Steamship Samos suffered a torrid night according to co-skipper, Periklis Livas, who called in on the way to Stromboli: "Last night was very difficult due to the wave pattern. Especially on port tack, when it was hard to steer in the lumpy sea. We have had some technical difficulties and made a big mistake staying too close to Sicily losing some miles on our competitors. Now we are through the strait, the crew is getting some rest as we regroup and get ready to fight on."
In contrast, François Bopp's Chocolate 3 from Switzerland, Livas and Lazos' former Rolex Middle Sea Race winning Farr 52, enjoyed a better leg to Messina. Navigator, Steve Hayles explained: "We are working hard to stay in the fight. It has been a reasonably full on twenty four hours for us. Some important shifts on the beat up towards Messina and fairly bumpy for a while, but we came out of that okay within our class. The timing on the exit of Messina worked out very well, with the leading group hitting the light air transition before us. We went through with fair current and in daylight, and set up in a good lane for the leg out to Stromboli. A long way to go for sure and another big change of wind direction tonight, so all to play for again. The Rolex Middle Sea Race rarely disappoints if you enjoy a game of snakes and ladders!"
Swee's co-skipper, Birgitta Elfversson called in from the Swedish Ker 40 in IRC 3: "We have had quite an eventful first night; there was a lot of wind and waves, and I am sure our competitors experienced the same. We are now leaving the Messina Strait behind and heading straight for Stromboli. Looking ahead, we believe that the next night will not be as eventful as the last. Probably with not a lot of wind, so we will have to find it. On the morning of day three (Monday), we can hopefully look forward to a long reach, which plays into the strengths of Swee. We have a young and very talented crew, who have kept us going and we have had a good time so far."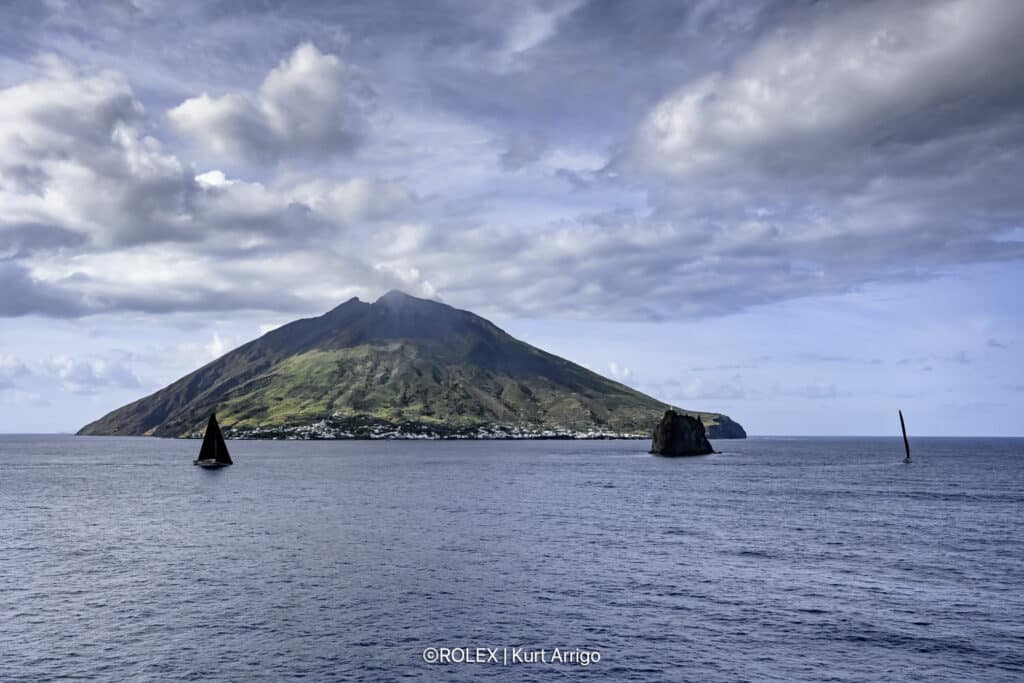 Nicholas O'Leary on Conor Doyle's Irish Xp50 Freya in IRC 4 messaged: "Flat to the mat on the good ship Freya. We hurled it round the outside early last night and slipped by the park up after Portopalo di Capo Passero. In very good company with Artie and co, much to the delight of our Maltese bowman Fabio Galea, having traded tacks up the Italian mainland beaches. Gradual left shift from here to the fire breathing island now. Crew in strong spirits and working hard at every opportunity."
The Maltese entry Unica is racing in IRC 5. Skipper of the Solaris 42, Jamie Sammut, called in to advise: "Had a tough night but all okay. We had a great crossing to Sicily with around 20 knots from the beam, then a beat and most of the crew got soaked. Now we are heading into the strait, and are just outside Reggio Calabria beating up the shore."
The double-handed entry Red Ruby from the United States, racing in IRC 6, also found time to make a sitrep. Christina Wolfe, co-skipper of the Sun Fast 3300, said: "A long first night with 11 sail changes. The wave height was pretty massive from many different directions and that was a real challenge. Currently we are short tacking the Italian mainland shoreline to stay out of adverse current. We are really looking forward to getting through the Strait of Messina and come off the wind. We are motivated and sailing in one of the most beautiful locations."
Multihull
Limosa holds a comfortable lead over the Jacopo Bracco's chasing Banuls 53 Finn and Aldo Fumagalli's Rapido 40 both on the water and in elapsed time. Finn (USA) rounded Stromboli at 1621 CEST, while Adamas (ITA) had 15nm still to go.
IRC 1
Bullitt leads under IRC time correction at the Stromboli transit by some margin from Leopard 3 in second and the Lithuanian VO65 Ambersail in third. Green Dragon (AUS) the VO70 has yet to reach the volcanic island.
IRC 2
Chocolate 3 is rolling back the years and at Stromboli was leading Franco Niggeler's Cookson 50 Kuka 3 (SUI) by just under an hour. RORC Commodore James Neville's Carkeek 45 Ino Noir (GBR) was in third just over an hour behind Chocolate on corrected time. Luce Guida (FRA) and Optimum S are the only boats in class not to have passed the Aoelian island.
IRC 3
A handful of yachts have reached Stromboli, with Sascha Schröder's Neo 430 Neomind (GER) holding a two and a half minute lead over the Ker 46 Daguet 3 (FRA), skippered by Frederic Puzin, with Francesco Bertone's Ker 46 Lisa R (ITA) another 10 minutes in arrears. At Messina, it was the NMD 43 Albator (FRA) leading Chenapan IV (FRA) and Swee (SWE), so it will be interesting to see if the standings change when more in the class reach the transit.
IRC 4
The Podesta family's First 45 Elusive 2 (MLT) is in impressive form building a lead in class of over three hours after IRC time correction. Conor Doyle's Xp50 Freya (IRL) leads on the water and is now second in class. Frank Werst's Swan 53 Silveren Swaen (NED) is one of the biggest climbers on Day Two, ranked 9th in class at Capo Passero, the Dutch Swan was third in class at Messina.
IRC 5
Per Roman's Garm (SWE) and Richard Fromentin's Cocody (FRA), both JPK 1180s, are still inseparable leaders for the class after time correction. Cocody has a wafer-thin six minute advantage. Frans van Cappelle's J/122 Moana (NED) has had a great second day racing, moving up to third in class.
IRC 6
Two scow-bow Sun Fast 3300s are top of the class with Christina and Justin Wolfe's Red Ruby (USA), racing double-handed, and Simon Toms' Zephyr (GBR) virtually tied at the top after IRC time correction. Guido Baroni's Sun Fast 3600 Lunatika (ITA) leads the class on the water. David Latham's Reflex 38 Seawolf (GBR) is up to third in class after time correction. This is David's 15th Rolex Middle Sea Race: "A wild first night then very light, and all good on board!" commented David Latham.
Retirements as at 1600 CEST Sunday 22 October. All crew reported to be okay.
Django
Red Bandit
Wild Joe
Paprec Sailing Team (Spirit of Malouen X)