Malta's past and present combined today at the Rolex Middle Sea Race final prize giving. Held, as is now tradition, in the 16th century former-Sacra Infermeria overlooking Grand Harbour, scene of the start one week ago, the story of the event was all but completed, just as the finishers conclude their own story as the cross the finish line.
This year's edition, the 43rd in the long and illustrious history of the Mediterranean's most demanding and renowned 600 mile offshore race, will be remembered for light winds, dogged determination and the remarkable imagery from the racecourse. Its character, so diametrically opposed to last year, it is hard to imagine the two races took place over the same track at the same time of year.
The principal success stories of the 2022 Rolex Middle Sea Race recognised at the prize giving included:
Teasing Machine – overall winner under IRC  and recipient of the Rolex Middle Sea Race Trophy
Mana – multihull line honours winner and recipient of the Captain Morgan Trophy for victory under MOCRA
Leopard 3 – monohull line honours winner and recipient of the RLR Trophy
Wild Joe – ORC Category winner and recipient of the Boccale del Mediterraneo Trophy.
David Cremona, Commodore of the Royal Malta Yacht Club paid tribute to all crews that had taken part, reserving special mention for the overall winner, Eric de Turckheim's NMYD 54 Teasing Machine from France, but also the handful of boats still to finish the 606nm race. Cremona also thanked the volunteers of the club that make up the Race Committee and its small permanent staff for their hours of selfless work in preparing for the race. He also took time to record the club's deep appreciation of its 20 year relationship with title sponsor Rolex, as well as the support of other race partners, such as Yachting Malta and the Royal Ocean Racing Club, and government bodies, such as the Malta Tourism Authority, for their important contributions.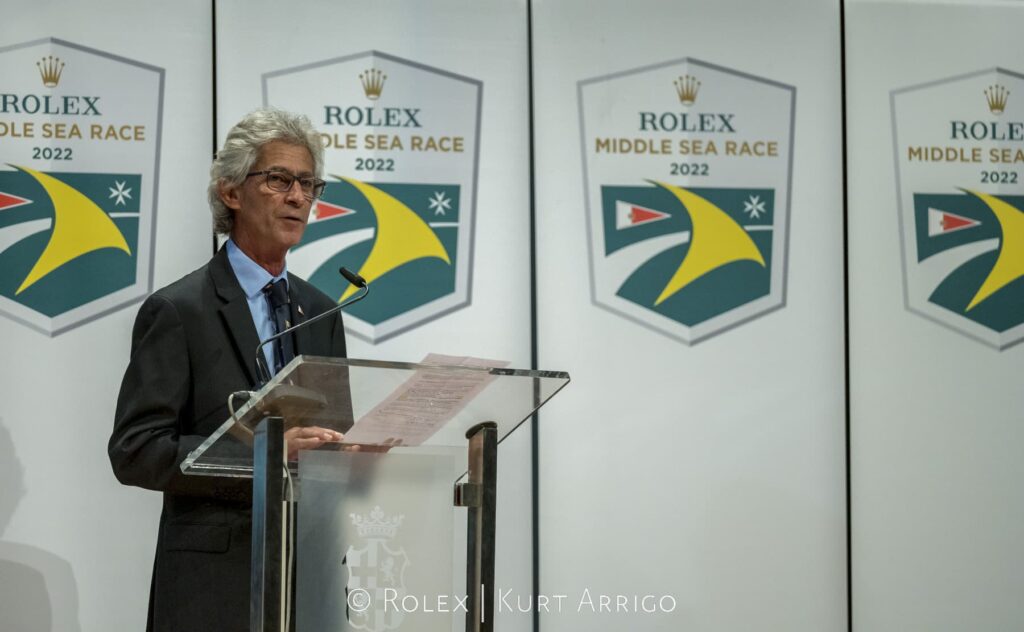 In addition to participating crews, the occasion was attended by several distinguished guests, in particular the Italian Ambassador, Fabrizio Romano, and the President of Malta, George Vella who gave a short address. "This historic building provides the most fitting venue for this ceremony with its connection to the seafaring Knights of St John," said President Vella. "As well as drawing the best sailing talent to our country, the Rolex Middle Sea Race has come to symbolise Malta's maritime history. Each year it brings the island's historic grandeur back to life." Malta's Head of State also referred to the global appeal of the race. "One of the race's most impressive elements since its inception in 1968 is its multi-cultural and multi-national aspect," he said. "So many diverse backgrounds and languages sharing a common love for the sport of sailing. For the past days you have demonstrated resilience, determination and patience. Your accomplishments would not have been possible without a strong team spirit. The image of endurance the Rolex Middle Sea Race offers each year is an example and encouragement to those of us ashore and a source of great inspiration."
The Principal Race Officer, Stefan Kunstmann, also took a moment to reinforce the thanks for the volunteers and staff that had delivered the race and to congratulate the competitors. "I admire each and every one of you – finisher, retiree or those still racing – for the sportsmanship, the patience, the acceptance of nature and the determination you have shown. These qualities are as much a part of our sport as sailing ability."
The 43rd Rolex Middle Sea Race now passes into legend. It was an exceptional race for very different reasons last year, and a reminder that tough conditions include light and fickle winds as well as fast and furious.
The 44th Rolex Middle Sea Race will start on Saturday, 21 October 2023.
IRC Overall & winner Rolex Middle Sea Race Trophy
Teasing Machine, Eric de Turckheim, FRA
IRC Class Winners
IRC 1 Spirit of Lorina, Jean-Pierre Barjon, FRA
IRC 2 Teasing Machine, Eric de Turckheim FRA
IRC 3 Ino XXX, James Neville, GBR
IRC 4 Albator, Philippe Frantz, FRA
IRC 5 Tevere Remo Mon Ile, Gianrocco Catalano, ITA
Monohull Line Honours & winner RLR Trophy
Leopard 3, Chris Sherlock, NED
Multihull Line Honours & Malta Tourism Authority Trophy (First Foreign Boat)
Mana, Riccardo Pavoncelli, ITA
MOCRA Overall & Captain Morgan Trophy
Mana, Riccardo Pavoncelli, ITA
ORC Category Overall & winner Boccale del Mediterraneo Trophy
Wild Joe, Marton Jozsa, HUN
ORC Class Winners
ORC 1 Wild Joe, Marton Jozsa, HUN
ORC 2 Daguet 3 – Corum, Frederic Puzin, FRA
ORC 3 Freya, Conor Doyle. IRL
ORC 4 Tevere Remo Mon Ile, Gianrocco Catalano, ITA
First Boat with Maltese skipper & majority Maltese crew -Transport Malta Trophy
First Maltese Boat under IRC & Arthur Podesta Trophy
First Maltese Boat under ORC & Teddie Borg Trophy
Artie III, Lee Satariano & Christian Ripard, MLT
Yachting Malta Nations Cup (Country with three best corrected times)
France – Teasing Machine, Spirit of Lorina & Arobas 2
Italian Ambassador's Trophy for Sportsmanship
Arobas2, Gerard Logel, FRA
First Italian boat under ORC & winner Federazione Italiana Vela Trophy
Tevere Remo Mon Ile, Gianrocco Catalano, ITA
At the time of writing, 44 boats had finished, 13 are still racing and the rest have retired.